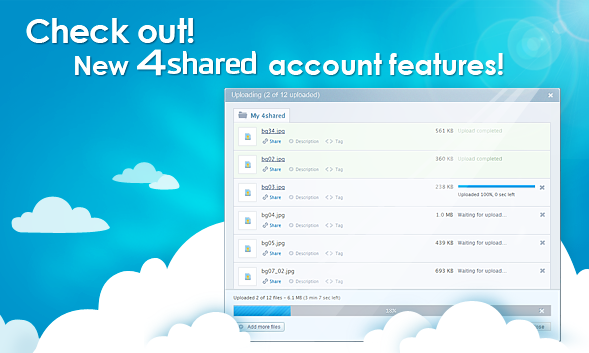 At 4shared we believe that even perfect things can be improved. Our team works hard every day improving user experience. This time we made some major improvements inside 4shared user accounts – available for all users, free and premium. Want to know what we prepared for you? Read more for details.

It's been a while since we specifically talked about the 4shared account; in this post we will cover all new and some existing features that might be unknown to some of our new users. Let's take a look.
New super upload



The most recent, awesome feature is our new upload system. It looks different, it feels different, and it works different too! You can start uploading files and folders as you have before. Just click one of the buttons to start uploading files or folders.
While the uploading process is in progress you can check out the details by clicking on the appropriate link.



You will see the current status of files and the progress of uploading. And here comes the interesting part – you can actually start uploading other files right away! Just Click "Add more files" button and choose any other media you want to upload.



This window can also be used to access the list of links to your newly uploaded files or folders. Click "Get links". If you're a Premium user, you have the ability to get direct links there as well.



Improved search bar



Now you have the opportunity to choose the category of files you want to search. Narrow your results by choosing exactly what you want like to find: photos, music, books, videos or games.
Improved navigation bar



We made some changes to our navigation system; you will now see it on the top part of your account for convenience. Never be lost in your account! You can also quickly rename folders using this new feature.
Search your account for files



It's great when you only have a few files in your account and always remember exactly where to find a particular picture, video or music track. But what if you have hundreds of files? You can always rely on your own 4shared search option that will allow you to easily browse the content of your account and find any file you want. All you need is to remember the name of the file or even a part of it – 4shared search will take care of the rest. You can also use this option to search for any files on 4shared itself without leaving your account.
Premium features indicator



It's totally fine to use 4shared for free, but some of these awesome features are available for premium users ONLY. Each time you see this icon, you will know that these features require Premium membership.
---
Check out these new features in your own
4shared
account and tell us what you think!
&nbsp
Like this post? Share it!