Well hello there! We've got some brand new hot features that will make your experience with 4shared.com even more comfortable than ever! So, today we are going to talk about such things as:
1. activity sharing;
2. view all images;
3. download all files/zip files;
4. view original (picture).

1. Activity sharing
I bet all of you have accounts on Twitter and Orkut. This social media services are really nice in terms of keeping contact with your friends and displaying your activity to them and visa versa. So why don't share your activity on 4shared.com with them absolutely automatically? Let them enjoy things that you do most! You've had a nice trip to Las Vegas and got tons of photos and you want your friend Roberto from Puerto Rico watch them? No problemo! Multiupload them to your 4shared.com account, press the "Activity sharing" button and connect your social media accounts! So each time you upload something all your friends will know about this with the automatic posts in your Twitter/Orkut pages!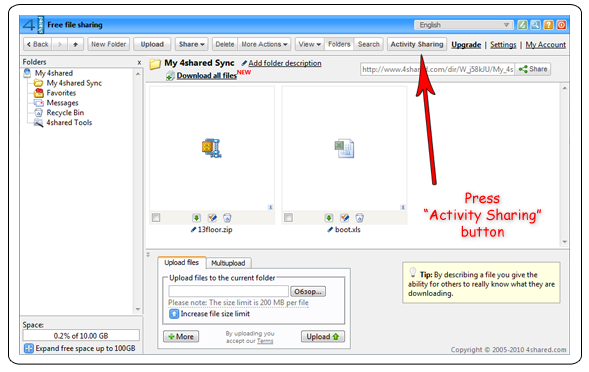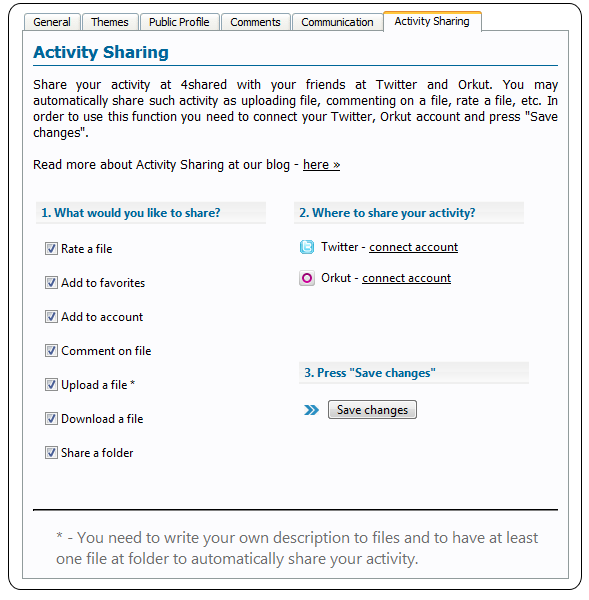 And a little teaser for Facebook users – you'll be able to use "Activity Sharing" feature with your Facebook account pretty soon too!
2. View all images
So, you've been using 4shared.com for some time now and you've got an impressive amount of pics or you've just registered to backup your anime collection? Got confused how to watch all of your goodies at once? Then go to your account, enter your pics dedicated folder, press "More actions" button and choose "View all images" option!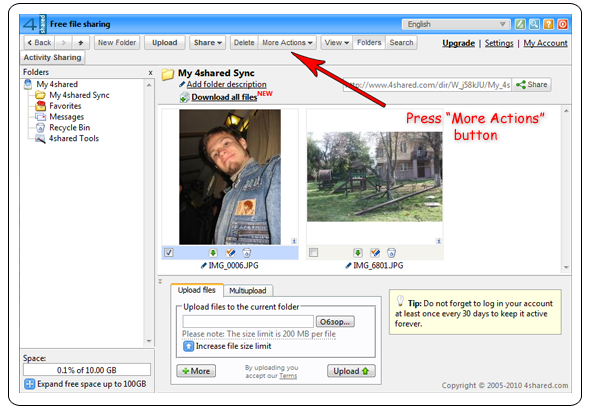 In a moment you will get a separate page in your favorite browser with all of your pictures listed! No ads, just your stuff in the original resolution and a quick "Download this image" link near each.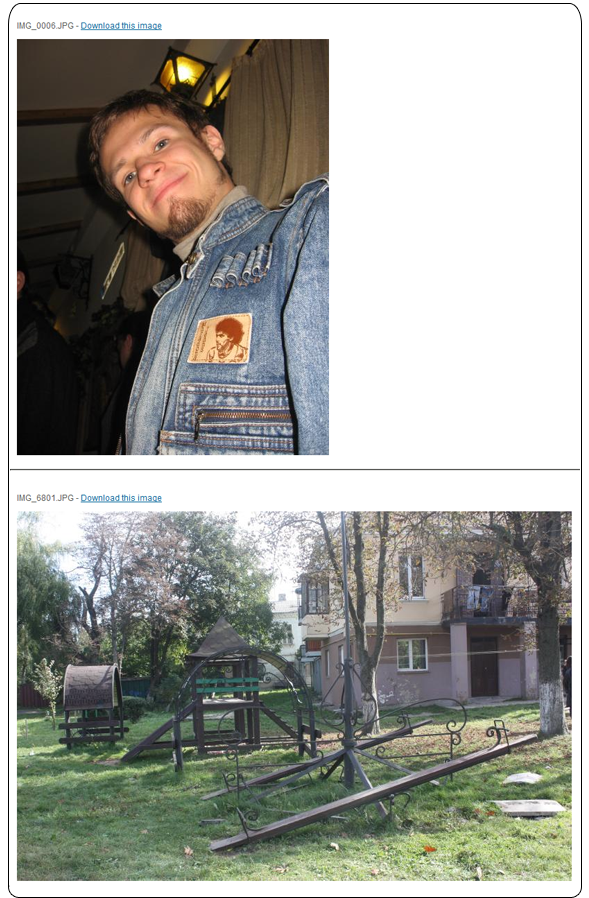 There's no need to click on every pic in your account folders for a larger preview anymore! Wow, 4shared.com rules!
Mind that this feature works with folders that contain graphical content only. No *.exe, *.txt, *.doc, *.xls, *.rar, *.dll, *.avi etc., just *.jpg, *.jpeg, *.gif and *.png.
3. Download all files/zip files
Most people are using 4shared.com services to host some docs, videos and pics they want to share with their friends. They are totally okay with that. But uploading to 4shared.com doesn't mean you'll never need those files back to your PC, MAC or whatever. So, it comes the time to download a few folders or you're just addicted downloader and can't live even a day without downloading something… what do you do? You click on the "download" icon near the desired file and get it back on your HDD. But what if you've got… say… 100 files that you need right now? That would be pretty boring to click 100 times to open a download page + another 100 times to download files by pressing the second download button + 20.000 seconds (about 6 hours) to wait until the download link appears + another 100 clicks to actually begin the download.
Why bother if you can use our new "Download all files" feature?
All you have to do is login to your 4shared.com account, enter needed folder, press "More actions" button and choose "Download all files" setting. This action will automatically form a *.zip archive for comfortable downloading and the only thing that will limit you is your Internet connection speed!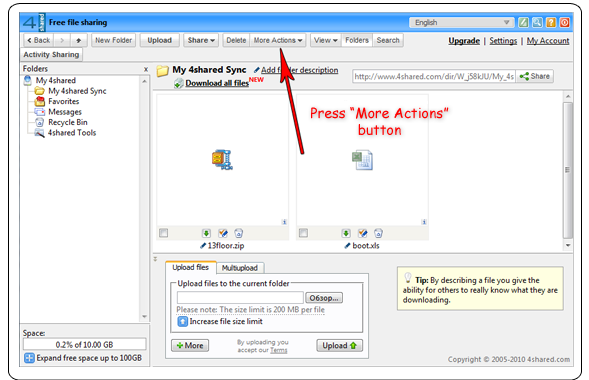 …and what if you don't need to download all the files from the folder but just five or ten? Easy! We a have a nice feature for that too. Check the desired files in your folder, press "More actions" button and choose "Zip selected" setting. This will generate a neat *.zip archive ready to download. I'm starting to actually love that "More actions" thingie!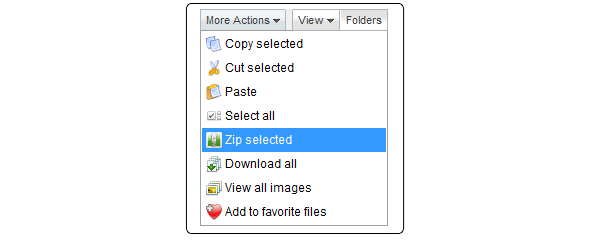 What else can you do with this feature? Well, sooner or later you'll face the fact that the capacity limit of your account will come to an end. That's a sad fact but there is something you can do even about that! No need to download your files back to PC – you can compress them into a *.zip archive right away thus saving precious MB on your 4shared.com account. This works the same way as zipping specific files for further downloading. The only difference is you don't download files after they've been compressed. You just leave them alone and enjoy additional space on your account!
All of the "Download all files/zip files" and much more features are available for premium users.
4. View original
And last but not least for today – a "view original" feature for pics, hosted on 4shared.com. How often do you browse large resolution pics on 4shared.com? Constantly? Than this feature is just for you! Next time you'll bang against a large picture take note at this line: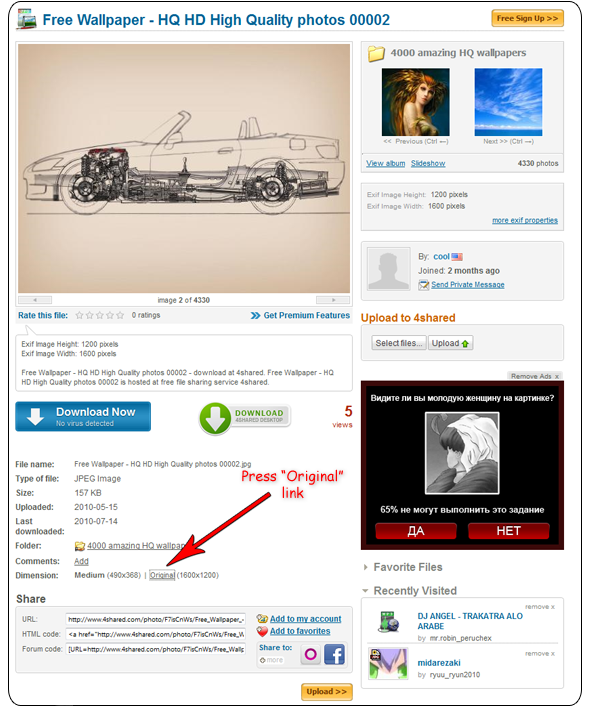 Pressing the "Original" link will take you to a new page where you can view the pic in it's original size. This makes image browsing really comfortable.


Well, is that it?
Of course not! Stay tuned to our blog to get the latest news about the new features of 4shared.com!
&nbsp
Like this post? Share it!