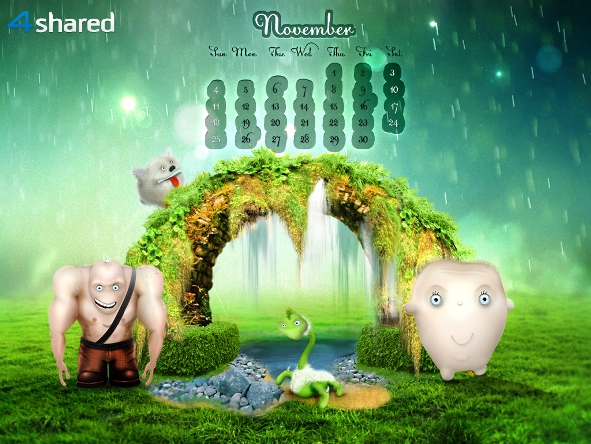 Get ready to get the presents from 4shared for Halloween and Thanksgiving! We are proud to introduce you with the astonishing 4shared November 2012 Calendar!
Read on for more details.
October's almost over, and it's the best time to refresh the computers and mobile devices with the exclusive 4shared November 2012 Calendar! As always, it won't only brighten up the desktops of your PC's, laptops, smartphones and tablets, but also be at hand, whenever you need to check the dates.
The storyline, reflected in unique 4shared November 2012 Calendar, is quite unusual, much due to its main characters. In particular, it's dedicated to 4 best friends: the cat Crazy-Fat, the dinosaur Snowflake, Paul aka "the Mighty Giant" and Jimmy, also known as Mr. Surprised. Although the guys have little in common in their characters, they've known each other for so many years now that eagerly put up with each others' flaws.
Every November they get usually get together to spend the weekend without their wives and children and have a trip to the seemingly deserted island, where, as the legend says, incredible treasures were hidden many centuries ago. This year the guys are likely to succeed in their treasure hunt, at least, Jimmy is exceptionally optimistic about it.
Are you dying to try out the cutting-edge 4shared November 2012 Calendar yet? Download it right now and share your outlooks with us.
4shared: There's Always Something New to Check!
&nbsp
Like this post? Share it!