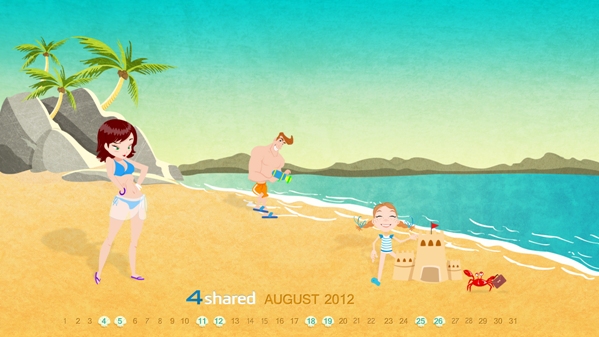 Get ready for more surprises from 4shared! We are happy to present you with amazing 4shared August 2012 Calendar that will, surely, enlighten your computers, tables and smartphones.
Read on for more details.
It's August already, the best time for picnics, outdoor barbeques and, certainly, vacations. Therefore, we have prepared a wonderful way to refresh the desktops of your computers and mobile devices – exclusive 4shared August 2012 Calendar that will definitely bring you tons of great summer mood as well.
The fresh 4shared August 2012 Calendar tells a story of the Thomsons, a family, in which everyone is crazy about vacations at the seaside, but has got different reasons for it. In particular, Jeff Thomson adores playing games on the beach as much as he used to in his childhood and usually invents his own new ones every year. His wife Janice is absolutely sure that such behavior is inappropriate and prefers sunbathing instead of running back and forth, but Jeff won't agree to end the beach-game tradition.
As for the couple's daughter, little Jessica Thomson, she loves building sand castles and even won the annual contest among children last year. Although the whole family doesn't really know what to do with the girl's award – a red lobster named Jim, both Jeff and Janice are absolutely proud of their talented daughter.
Are you excited to change your desktop picture for the brand-new 4shared August 2012 Calendar yet? Download it right now and share your impressions with us in comments.
&nbsp
Like this post? Share it!