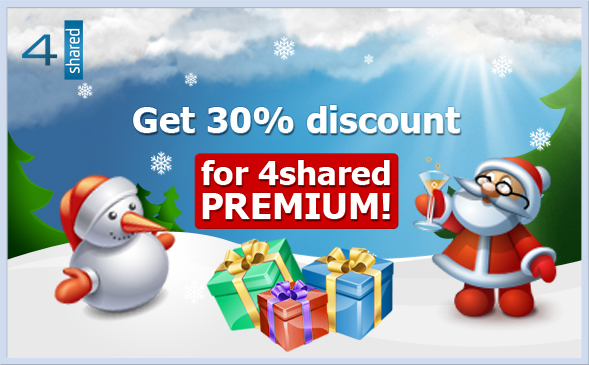 So, it seems that 2011 is going to end in a few days and we are definitely going to take this chance to say some good words to our faithful users. Twenty eleven was surely a busy year with dozens of releases, new projects and updates. 4shared became larger, more useful and generally better in all possible aspects. All these improvements are the result of hard work of our staff and, of course, useful feedback of all of you. 4shared wouldn't be possible without you guys! And we've got something for you to show our appreciation. Read more for details…

Party!
Well, we'll just fire it away! From now on all of our users, both regular and new, will have an opportunity to buy 1 Month and 1 Year premium accounts with -30% discount! For how long? Well, long enough! So don't waste time and make yourself, your loved ones and friends happy with 4shared premium account! As always, you can get acquainted with all unique features of 4shared premium accounts on this page.
Merry Christmas and Happy New Year!
&nbsp
Like this post? Share it!