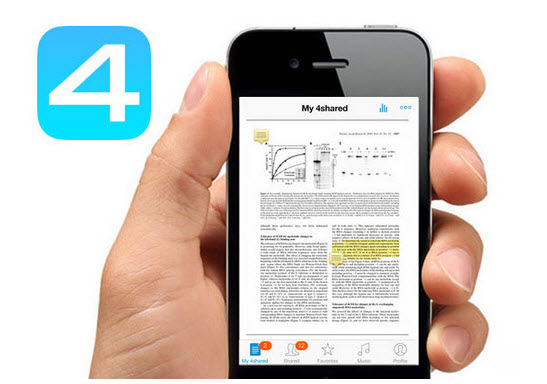 Ótimas notícias, pessoal! Adicionamos uma nova ferramenta na última versão do aplicativo 4shared Mobile para iOS – Visualização de PDF!


A mais nova ferramenta de visualização de PDF é fácil de usar e traz diversos benefícios importantes para usuários de iPhone/iPad.

Para começar, agora é muito mais fácil ler livros, documentos e outros arquivos PDF armazenados em sua conta do 4shared – em seu iPhone e iPad.

O mais novo 4shared Mobile para iOS permite com que você abra e navegue por qualquer PDF diretamente do aplicativo. Você apenas precisa tocar um arquivo para visualiza-lo.

Além disso, não há necessidade de descer a barra de rolagem do livro ou documento em PDF, para a página na qual você estava, todas as vezes que parar de ler.

Na próxima vez em que abrir um arquivo PDF em seu 4shated Mobile para iOS, a última página visualizada abrirá automaticamente.

Dica! "Classifique com estrela (Star)" os arquivos PDF para navegá-los mesmo quando não houver conexão com a internet.

Mais importante, o aplicativo também permite que você leia documentos PDF do 4shared encontrados através do seu navegador móvel.

Para abrir um arquivo PDF do 4shared em seu aplicativo 4shatred Mobile para iOS:

1. Abra a página de busca por PDF do 4shared em seu navegador móvel.
2. Encontre o arquivo PDF que precisa e toque nele.
3. Toque no botão "Abrir no aplicativo (Open in the app)" na página aberta do arquivo.
4. O arquivo PDF irá abrir para navegação em seu aplicativo 4shared Mobile para iOS.

Dica! Toque em "Adicionar à minha conta (Add to my account)" no seu 4shared Mobile para salvar o arquivo PDF em sua conta do 4shraed para navegar depois.

Instale o novo 4shared Mobile para iOS da App Store agora e experimente seus benefícios!


&nbsp
Like this post? Share it!