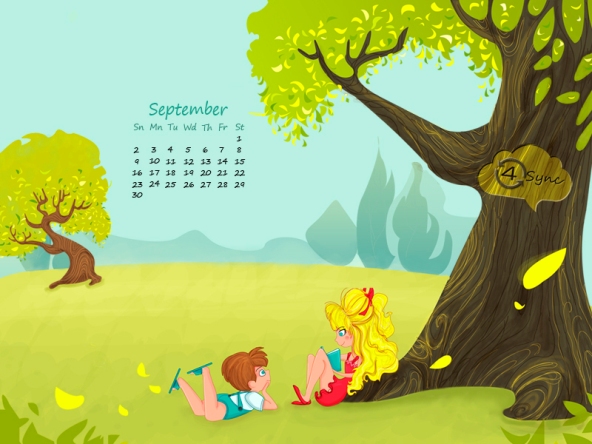 Seasons are changing extremely fast – it's already September! Thus, it's high time to change your desktop wallpapers for an incredible 4shared September 2012 Calendar.
Read on for more details.
Summer's over, but there's absolutely no reason to feel sad, as now all of 4shared fans have an incredible opportunity to freshen up the desktops of their laptops, PC's and mobile devices with the brand-new 4shared September 2012 Calendar.
Symbolically entitled "New Beginnings", this month's calendar depicts a story of Michael and his older sister Jean, who have been best friends forever. Although sometimes the little brother can't fully grasp the things they discuss, Jean loves to be a life-mentor for him.
Although Jean has started school this year, she still enjoys spending time with Michael, especially during warm sunny September; where the park, situated near their house, is especially beautiful. Today, on an amazing day like this, they have brought an exciting book to the park, so that Jean can read one of the wonderful stories to her beloved brother.
Are you interested in 4shared September 2012 Calendar yet? Download it now and tell us, what you think.
4shared: Success is Brought by New Beginnings!
&nbsp
Like this post? Share it!