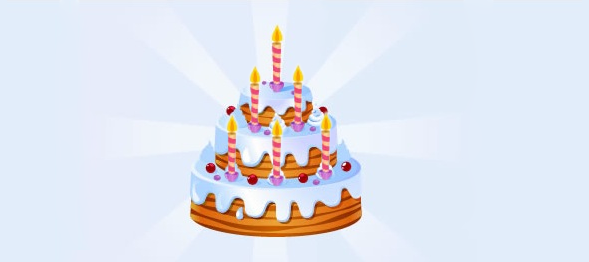 UPDATE! the contest is over and the winners are: Phendrena, jhe, Diego Henrique da Silva, Blaze, Jorge, bro.Victor, Mysticdragon, Rey, Farag M. Afify, mHeL. Check your emails, guys!
Hurray, people! Let's celebrate 4shared 6th birthday together! This is a happy occasion for 4shared, but much more significant to the 4shared team is the fact that over 13 millions of people around the world are using 4shared each day to share files with each other. 4shared was founded in 2005 to give people the tools for convenient online filesharing. We are glad that so many people are using 4shared services.
While we at 4shared make products that enable people to share information efficiently, 4shared is also the product of the people who use it. Without you and the files you share with others, the products we create wouldn't have much meaning. So we feel fortunate to have all of you with us. To express our appreciation, we'll run a little contest – leave your congrats to 4shared and we will give month premium accounts to the authors of the best ones!

Since its founding, one of the constants of 4shared is that it has continuously evolved to make it easier to use. To give you a sense of how 4shared has changed, we dug up an image of how it used to look – you can see it here. Today 4shared has changed in many aspects and provides its users with vast variety of software and services.

4shared Desktop is free application for Windows, Linux and Mac PC's expand 4shared functionality. Speed up the routine process of uploading hundreds files to your account and make it much easier.
4shared Mobile gives users an opportunity to access 30,000,000+ files hosted on 4shared, manage their web accounts, listen to music, watch video. It is available on iPhone & iPad, Symbian, Blackberry and Android.
4shared Music is designed to find and play music from 4shared on iPhones & iPads, have immediate access to 4shared search using account, play any track, add favorite tracks to playlists, manage playlists etc.
4shared Toolbar gives instant access to 4shared Desktop, 4shared home page and personal 4shared account. With 4shared Toolbar users can get access to the free games, watch TV and listen to online radio stations, check out favorite places on the Web, receive 4shared most important news and announcements instantly. It is Internet Explorer, Mozilla Firefox and Safari compatible.
Love.4shared.com offers 12 different services including Gifts (excellent way to express your sympathies to other users – you can make anonymous, private or public gifts), Diaries (private diary is the best way to show all of you – you can fill it with favorite poetry, your thoughts, stories about your daily life), Photo Albums (photo album is a very convenient service to store any your photos – you can make it private, friends-only or public) etc.
4shared API allows to export different elements of 4shared functionality (such as search) to third party web sites.
It wasn't that easy for 4shared to become what it is today, but there's always a room for improvements. The challenge motivates us to keep innovating and pushing technical boundaries to produce better ways of filesharing. The culture of the Internet has also changed pretty dramatically over the past six years. Before, most people wouldn't consider relying on online filesharing services. But 4shared has offered a safe and trusted environment for people to share files online, which has made millions of people comfortable while using the Internet.
Why is it important to us to keep building better ways for people to share files? Enabling efficient sharing is important because it makes the world more open. As we celebrate 4shared's 6th birthday, we continue to work hard to evolve 4shared and make it as simple as possible for people to share files with each other.
&nbsp
Like this post? Share it!