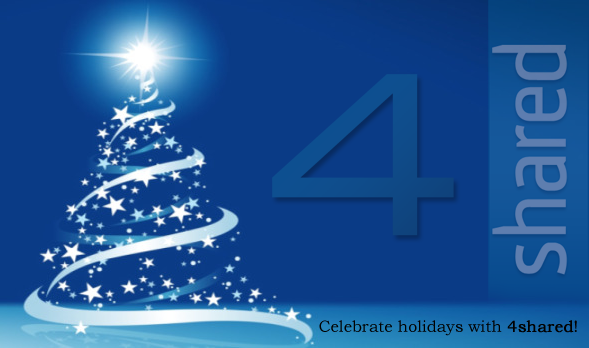 The twenty ten is almost done
And we would like to thank you chum
For your support, feedback etcetera,
And all of you deserve some extras!
For sharing photos, vids, whatnot
Some apps, some music, books, why not?
Watching updates of other folks,
Commenting stuff and friendly talks.
The first thing was free web account,
For storing files in big amounts,
Backuping data, saving bucks,
Performing other useful tasks.

We made 4shared Desktop already,
That makes filesharing nice and dandy,
The one that has a nice UI.
Multiupload and synchronize!
We have some apps for Mobiles too:
iPhones, Smartphones, BBs should do!
Android and Windows are on their way
4shared deserves hip hip hurray!
Hey, guys, it's time for Christmas soon,
4shared's ready to make some presents too!
So take a look at premium account
Considering our holiday discount!
That's right, thirty percents are off,
With hundred of GBs you fall in love!
Don't waste your time and order now
4shared's amazing premium account!
&nbsp
Like this post? Share it!