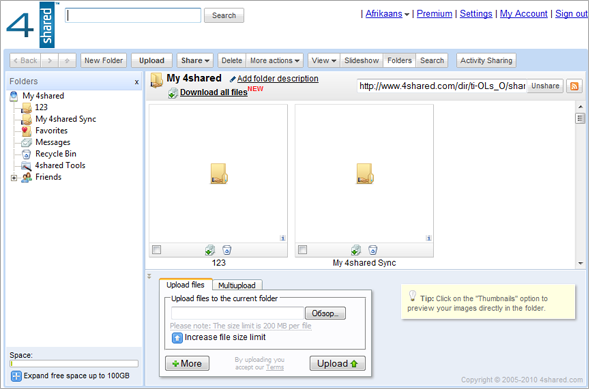 4shared provides a number of ways to make file sharing more effective, and today we are announcing new theme for online accounts to help make your experience on 4shared more convenient.
First, we're launching a quick search that allows you to browse ~30 millions of 4shared hosted files without any additional trouble. We have placed it in the top left of user account so it's going to be the first thing you see after logging in.
Second, we've grouped all the links for managing user account – you can see them on the top right – so you won't need to spend more than a second to access your account settings, change the language of the localization, buy premium etc. Read more for details.

1. Quick Search



Until now, 4shared has made it easy to search files, but there hasn't been a simple way to perform this. For example, you might want to find some funny videos, nice posters for your desktop background, a manual for your toaster or your favorite tune. From now on you may perform search in one click – just enter your query in the search box in the upper-right corner of your account. Once you're taken to the search results, use the filters on the left-hand side of the page to view files by country, format, size etc.
2. Manage your account



With the new 4shared online account interface you can access all the most useful settings with the new tab which is placed in the top right.
Using this tab you can:
– change your current 4shared language (there are 18 available!);
– buy premium account (+100 GB to your account and other goodies);
– change your settings (change your password, edit your username, choose the theme for your Download Page, edit your Public Profile, set comments settings and activity sharing etc.);
– check your account stats (used space, free space, capacity, outcome traffic).
3. Experience new look
Some of you may ask why we are changing the default account theme. Like you, we know it can be disruptive when things are moved around, but we hope that these changes make 4shared more valuable experience for you. 4shared team put a lot of thought into all the changes it makes to its services and does a lot of testing before releasing anything.
One of the most important source for updates on 4shared is users feedback which we receive by emails, so send us your opinion if you have any questions about our new theme.
Log in to your 4shared online account to see the changes for yourself!
&nbsp
Like this post? Share it!