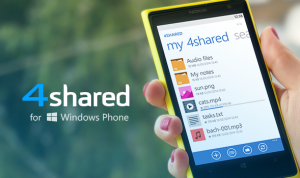 Prepare yourself for another dose of amazement! 4shared for Windows phone will definitely surprise you.
It boasts a great deal of amazing features, including media streaming, online slideshow, which makes browsing albums a fantastic experience, and a wonderful search mode. Plus, this app has a cool design.
Upload your files to 4shared and share them with colleagues, friends or classmates. You can create your personal media library that will be the same wherever you go, and there when you need it. No need to guess which files you'll need today, this fantastic app lets you take all of them with you.
To make things more interesting, it should be mentioned that whilst the majority of clouds don't have official app for Windows Phone, we have!
Key Features:
&#10022 Instant access to all your data
&#10022 Easy file and account management
&#10022 Music player: background music playback, media streaming without download,
&#10022 Offline access to your Favourites
&#10022 Browsing photos in a slideshow mode directly from the cloud
&#10022 A comfortable search option that makes it a breeze to find things you fancy
&#10022 Easy sharing.
Since it is a beta version, the new features and other improvements will come soon!
&nbsp
Like this post? Share it!