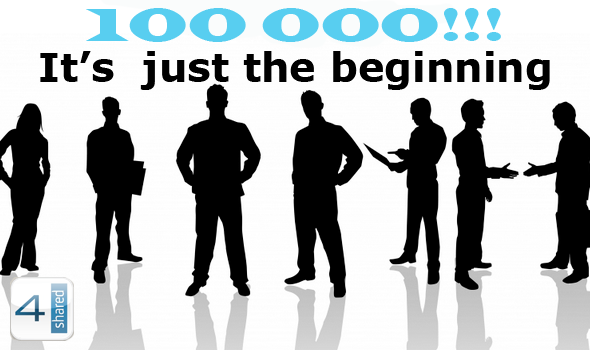 How can you evaluate 100 000? 100 000 dollars, or 100 000 square meters of land on your farm, perhaps? 4shared has got another, far better example.
Read more for details.
No matter, what services you are offering, its becoming popular is one of the prior issues. Here, the popularity isn't always estimated in money equivalent, but in your consumers' happiness as well. At least that's what we at 4shared are sure of. And now, we are immensely happy to say that the team of fans within our Facebook community has already exceeded 100 000 people.
Who are our devoted followers?
They are teenagers and grown-ups, men and women, Indonesian, Brazilian and, of course, the representatives of all other nationalities. They live in different parts of the world, belong to different cultures and yet have got one thing in common. They have already opened the whole array of benefits and advantageous 4shared features.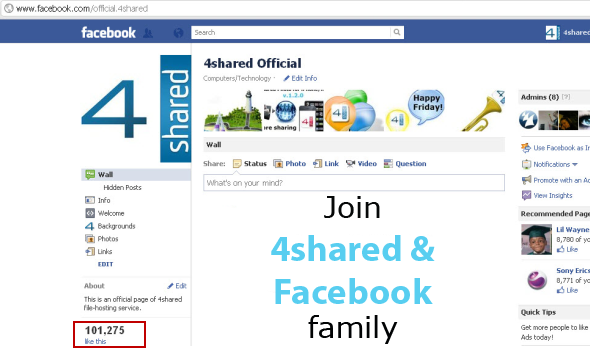 Our followers are already accustomed to storing their files at a secure 4shared account, keeping all their data mobile due to convenient 4shared mobile apps and, certainly, sharing any files with thier family, friends and colleagues.
Moreover, being a part of 4shared Facebook community, our fans are the first to learn about all our news and updates, have a wonderful opportunity to find new friends and, surely, win fun presents in versatile exciting contests. You can also share your recommendations, how we can upgrade 4shared can make it even more convenient and easy-to-use at any of our Facebook pages.
Have you already become a part of 4shared Facebook Family? Like our 4shared Official page now and expand your digital horizons!


Nothing is impossible with 4shared!
&nbsp
Like this post? Share it!