Last month 4shared has been visited by ~500,000,000 visitors from all over the world. Do you know how many planes it would take to transport all these people say… to the Carnival in Rio de Janeiro? Or how many football stadiums it would take to fit them all at the same time? Read more to find out!

We've collected a number of cool facts about 4shared monthly visitors at this eyecandy infographic. Our goal was to outline how much is 500,000,000 in comparison with other most big stuff in the world.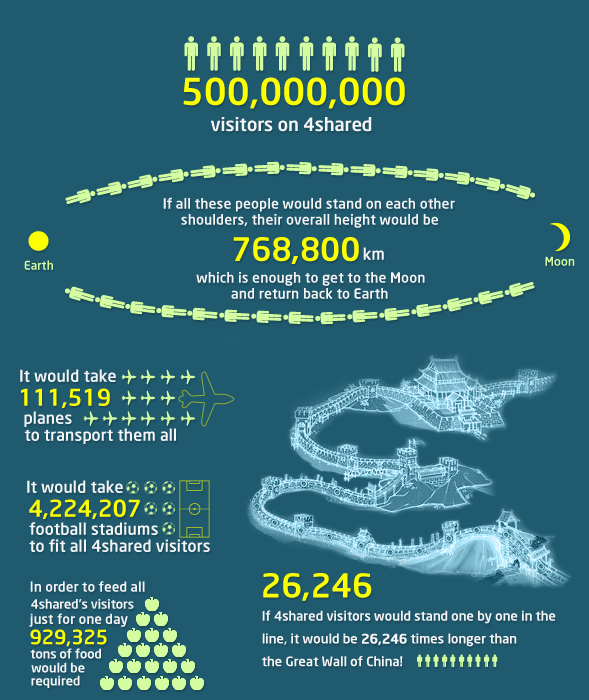 1. It would take 111,519 An-225 planes to transport all these people to any place on Earth at the same time. The Antonov An-225 is the world's heaviest aircraft. An-225 transported 108 tonnes of construction machinery from Japan to Santo Domingo, Dominican Republic for quake-stricken Haiti. An-225 carried the world's longest piece of air cargo, when it flew two new 42-meter wind turbine blades (test subjects) from Tianjin, China to Denmark.
2. It would take 4,224,207 Michigan Stadiums to fit them all at the same time. Michigan Stadium is the third largest stadium in the world and the 31st largest sports venue. Every home game since 1975 has drawn a crowd in excess of 100,000, an active streak of more than 200 contests. The size of the crowd in the stadium nearly matches the city's population of 114,000.
3. If all these people stand on each other shoulders their overall height would be ~768,800 kilometers which is enough to get to the Moon and back. The distance between the moon and the Earth varies from around 356.400 km to 406,700 km at the extreme perigrees (closest) and apogees (farthest). In 2011, it was closer to the earth while at full phase than it has been since 1993.
4. It would take about 929,325 tonnes of food to feed them just for one day!
5. If 4shared visitors would stand one by one in the line, this line would be 26,246 times longer than a Great Wall of China! The most comprehensive archaeological survey has concluded that the entire Great Wall, with all of its branches, stretches for 8,851 km.
&nbsp
Like this post? Share it!