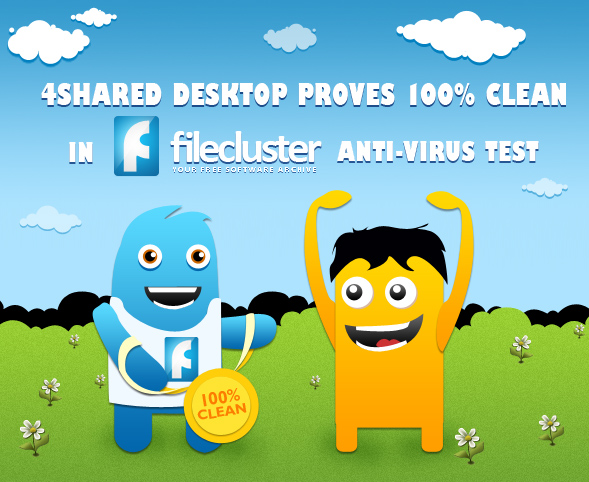 Broad anti-virus testing report from FileCluster showed great results! 4shared Desktop proved to be 100% clean of any malware or viruses and has been flagged as safe for users.
Read more.
It's very common among reputable software portals to check the most popular software for malware and viruses, so users don't have to worry about the safety of their computers. FileCluster, one of the biggest software portals, recently conducted a broad anti-virus test of our featured application 4shared Desktop. They used 4 best anti-virus engines, including Kaspersky Antivirus, NOD32, Avira Antivirus and BitDefender Antivirus.
Naturally, all results revealed that 4shared Desktop is absolutely clean of any viruses and malware and is safe to download and install on your computer. To assure FileCluster users that 4shared Desktop application is 100% safe to install, you will now see a special "FileCluster Clean Award" displayed at our app page, right under the "5 Stars Editor's Pick Award", 4shared Desktop recieved.

In addition to being totally safe for your desktops and laptops, featured 4shared Desktop is also highly multifunctional and is, undoubtedly, a useful tool for everyone.
4shared Desktop is available for most operational systems including: Windows, Linux and MacOS.
4shared Desktop has a lot of great features:
1. Integrated image previewer & music player.
2. Multi-File uploads & downloads.
3. Easy-to-use link-sharing options.
4. Convenient file and folder management in your 4shared account.
5. Multi-language interface (support in 18 languages).
6. The application is FREE.
Have you had a chance to try 4shared Desktop? Check out FileCluster's official page, download the app and expand your digital opportunities.
4shared Desktop: Quality is Priority!
&nbsp
Like this post? Share it!