Huge news! 4shared hits 11 million visitors! It's has been just a month since we've announced 4shared reached 10 million visitors per day. And now it's already 11 million visitors daily! This is a great achievement for us to hit 11 million visitors mark  in such a short period of time. It's so great to see 4shared keeps on growing so fast and gains popularity all over the world!

Such a big raise of 4 shared makes us feel really proud of the service. We want to continue bringing users the best and meet their expectations.  Each time you visit 4shared we want you to enjoy using the service and make use of it. You can make sure 4shared is so cool and simple in use getting your own FREE 4shared Account.
We won't let out of sight that a lot of work  was done during this time!
4shared has redesigned the home page to improve the usability and help you to get the best out of service faster and easier. By the way, have you already checked it out? New 4shared home page now gives you more control for accessing, searching, sharing and managing your files.  Go to 4shared.com and check it!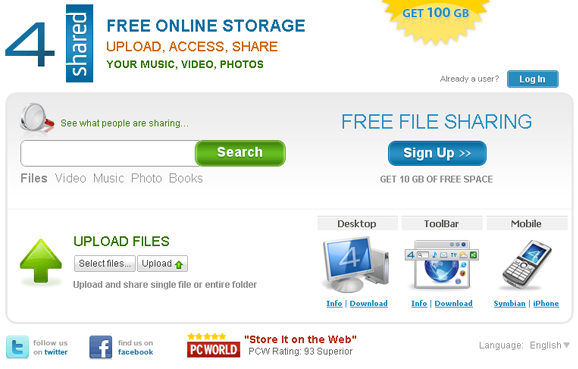 But that's not all.
4shared went mobile!
4shared has released new 4shared Mobile Application for Symbian OS and iPhones. There are no limits to access FREE 15GB of data on your 4shared Web Account anymore. With new4shared mobile application you are free to access your files through your phone from anywhere and whenever you want. Now it's available for free download.
You can download for FREE  4shared Mobile Application for Symbian phones HERE.
iPhone users can get their version of 4shared Mobile Application for FREE HERE.
&nbsp
Like this post? Share it!