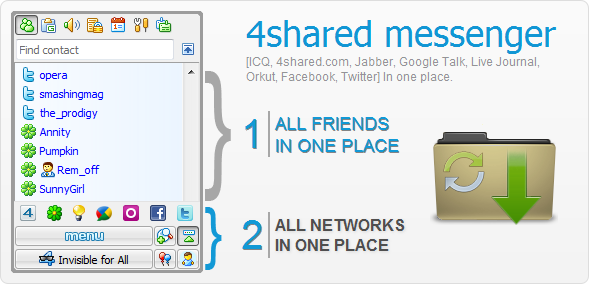 Hey, hey, hey, don't pass by as today we announce a brand new application that can be useful for everybody – 4shared Messenger! This is a new IM that allows you to share any files (video, music, photos, books etc.) while you chat with your friends. Is that it? No!
4shared Messenger gives you an instant access to your social media accounts in Jabber, Google Talk, Live Journal, Orkut, Facebook, Twitter and manage them in one place. We believe you should be able to connect with your friends everywhere. We're happy to announce that now you can with 4shared Messenger.

Top 10 4shared Messenger features
1. Login with your 4shared account name. No need to waste your time on additional registration process: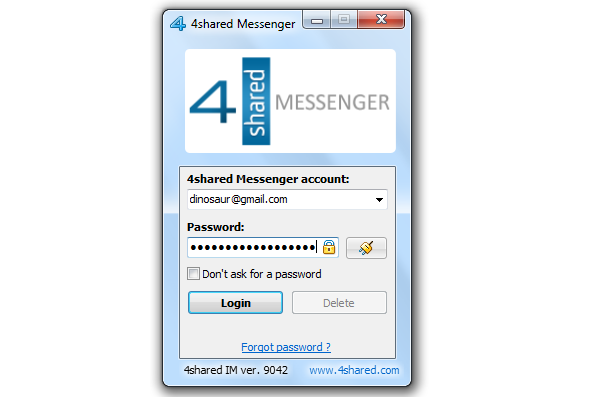 2. Add your social media accounts (Jabber, Google Talk, Live Journal, Orkut, Facebook, Twitter) and start to communicate with your 4shared Messenger right away. By integrating 4shared Messenger with your preferred social media web sites, you'll never miss a message! Simply connect your 4shared Messenger the social media web sites of your choice and start chatting. You will not need to stay logged in to any of them to continue to access your friends: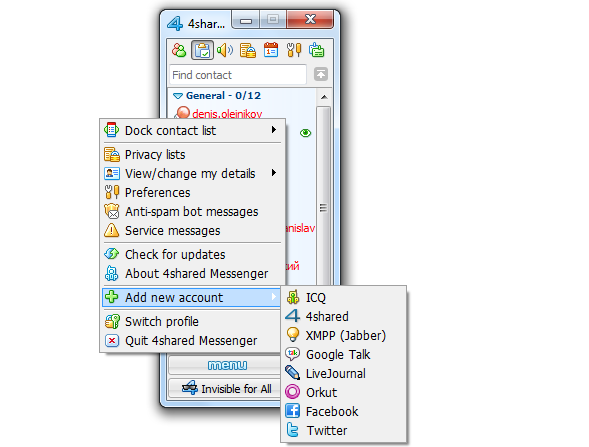 3. Millions of people are waiting to make friends with you! Search for them by User ID, e-mail, nickname, first name, last name, country and even city!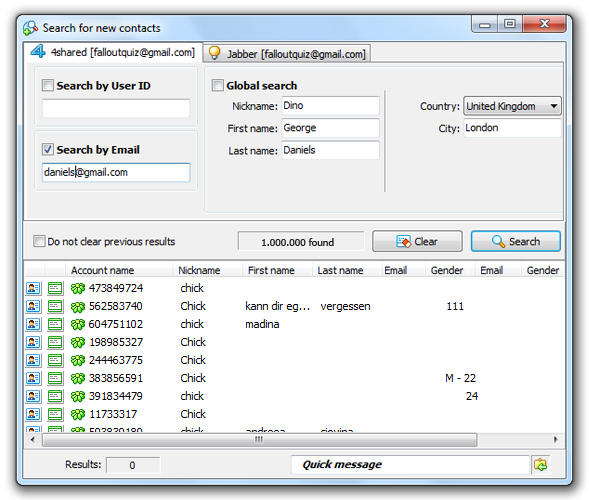 4. Want a moment of peace? Set your status picture and visibility: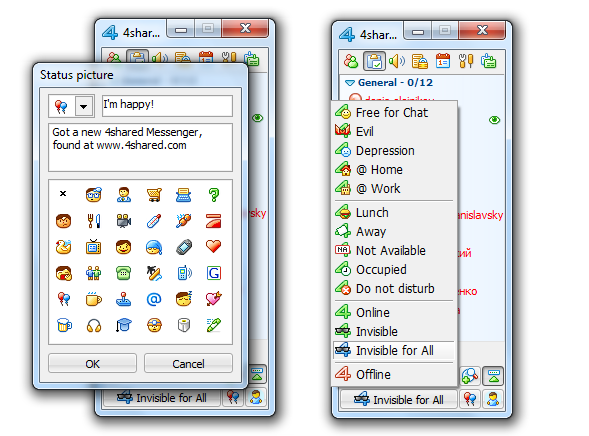 5. Send multiple messages to all your friends at the same time!



6. Manage your privacy lists. If you don't want to be visible by all of your online friends, you can adjust your visibility in the settings.



7. Manage your settings including general options, contact list, events, messaging, history, status mode, anti-spam, sounds, interface, shortcuts, plugins, connection, audio, video and accounts:


8. Send files via 4shared! Just drag&drop any file you want to your message window and it will be uploaded to your 4shared account in the matter of seconds! You can transfer files via 4shared or directly from user to user: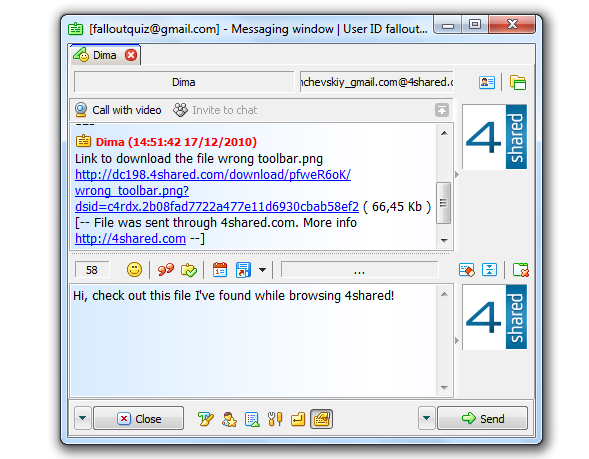 9. Create conferences to chat with more than one person at the same time: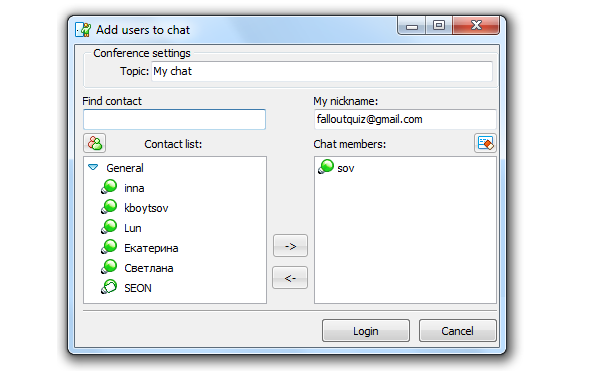 10. Express yourself with smiles so everybody will know how do you feel:

And don't forget about unique designs for 4shared Messenger that will fit your mood! All you need is to download setup file and start it on your computer for skins' faster and easier installation!
Your conversations will remain completely private and only between you and your friends! Starting today, you need just one thing to communicate – 4shared Messenger!


&nbsp
Like this post? Share it!