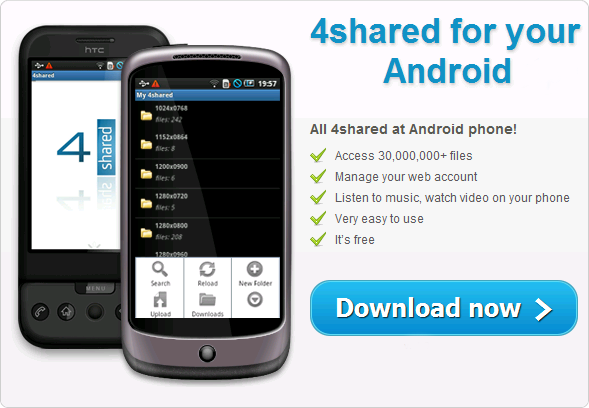 Everything in the world happens in real time – so should be filesharing process too. The modern communication tools allow people to connect with each other in the matter of seconds to share stuff. So, if there's something worthy goes around you can pick up your phone, take a pic and share it on 4shared. The next thing you know – users will leave comments to your photos, discuss them and share with each other.
Millions of people around the world are now actively using 4shared from a phone, which is more than triple the number just one year ago. Today, we're taking another step forward in enriching your mobile experience with new 4shared Mobile application. Yeah, go ahead, open up a beer or two to celebrate the arrival of 4shared Mobile for Android! Search and browse millions of videos, music, pics, books, wallpapers and ring tones for your entertainment on 4shared.com!

With 4shared Mobile for Android you can:
– share your favorite files with your friends
– manage your files by creating folders and separate your stuff the way you like it
– add files to your list of favorites for a quick access
– upload files and folders to your 4shared account from your phone
– and much more!
You'll certainly would like to have 4shared Mobile application:
1. Login to your existing account or create a brand new one right away: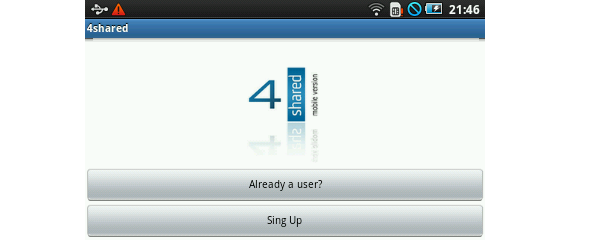 2. Search for files, create new folders, upload stuff to your phone and manage your downloads: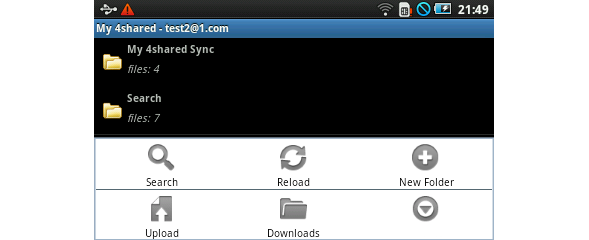 3. Use advanced search options to have best search results in the shortest time possible: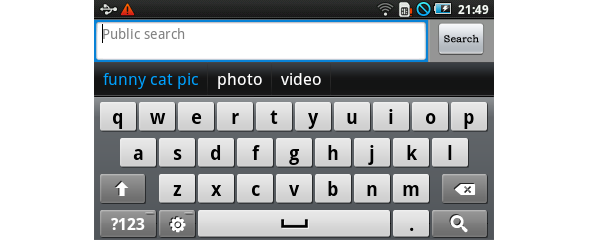 >>>Download 4shared Mobile for Android!<<<
&nbsp
Like this post? Share it!