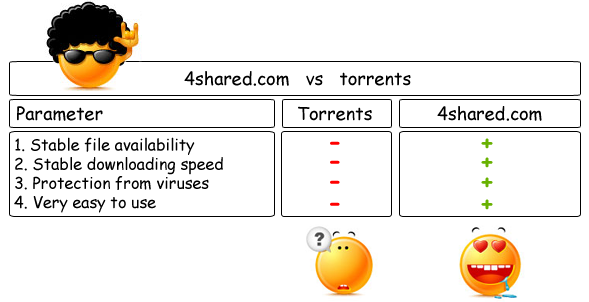 What are the most convenient ways to transfer big amounts of files via the Internet? There are actually three of them:
1. torrents
2. online file sharing
Oh, sorry. Just two. Silly me. But which one is better in terms of speed, being user-friendly and reliable anyway? Lets talk about each of them in more details…

1. Torrents
The main idea behind torrents is that one person can share with others creating special torrent file which holds all necessary information about file (location, size, description) and putting it on the web where others can download them with the help of special torrent web-sites and programs. This is so called "person to person method" (P2P). The most brilliant thing about torrents is that you don't need to upload files anywhere – people just downloading them from your computer whenever you are "seeding". This sounds pretty neat but lets consider all sides of sharing via torrents in the form of "what you got to do" list.
Things you got to do to download files from Torrents:
1. find a program which is capable to work with torrent files, download it;
2. figure out how it works;
3. search for a reliable torrent site;
4. search for a file;
5. download needed torrent file, open it in your torrent compatible program;
6. start downloading the file itself or wait others to "seed".
It's very important to know that your downloading speed is directly connected with the number of "seeding" people. If the file is popular you can expect many people to seed it which grants you stable downloading speed but if it's not? Or maybe there's just one person seeding out there? Than downloading a single file can last literally forever. It's really upsetting when your download depends on whenever somebody is able to Internet at the moment or not. So, as you can see, using Torrents to download files has its own serious flaws including evil users who intentionally put viruses in their files or illegal stuff etc.
2. Online file sharing
File sharing itself is much alike Torrents and has the same goal – to help people share their files. The main difference is that you have to upload files to the remote Internet storage web sites which offer such service. But is it that bad? Lets make "what you got to do" list too taking 4shared.com as an example!
Things you got to do to download files from 4shared:
1. open 4shared.com in your favorite browser: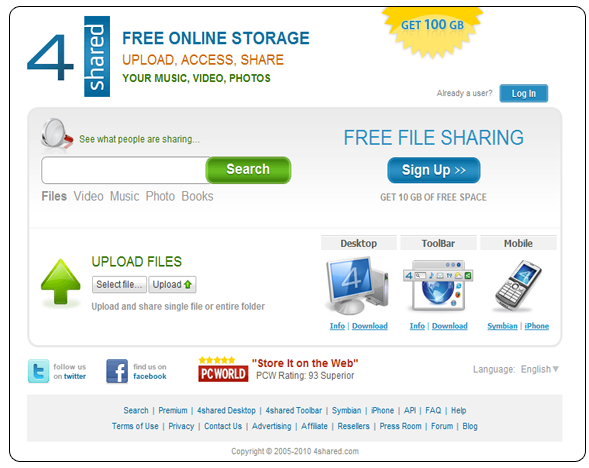 2. type your search request: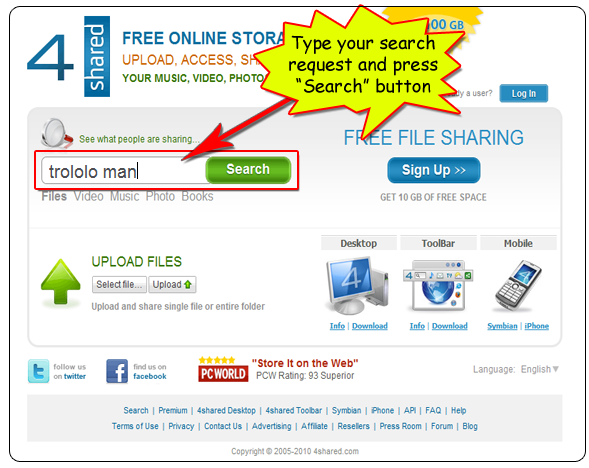 3. choose the best suiting result: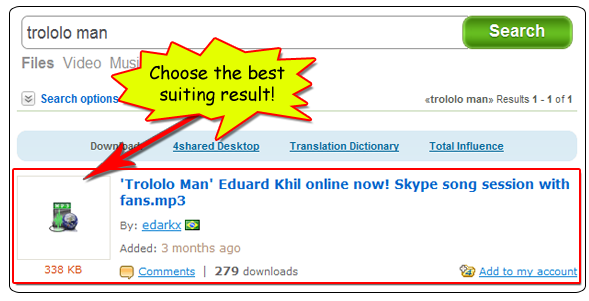 4. download!



No need to worry about "seeding" and other users' Internet availability! All files are ready to be downloaded at any time! Forget about viruses too as 4shared has an automatic virus detecting system! Read comments, watch other users ratings for files, check out the numbers of downloads and make your best choice!
Results?
Well, I think that everything is pretty clear at this point. Online file sharing is the most reliable and convenient way to share files and download them and 4shared.com is a good example for that!
&nbsp
Like this post? Share it!