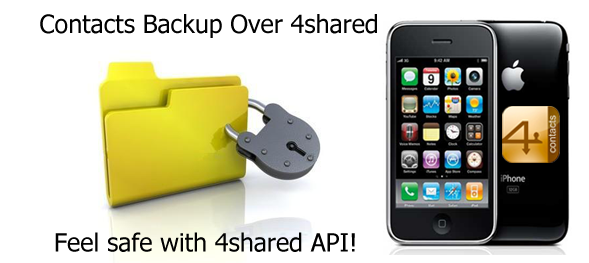 4shared introduces one more participant of the 4shared API Program – Contacts Backup Over 4shared. It is convenient, reliable and one of the most necessary apps for your iPhone. Contacts Backup Over 4shared will save your contacts even when nothing is left in your iPhone. Let's look closer.

4shared has been providing its users with helpful and efficient applications during last six years. 4shared SOAP API (Application Programming Interface) initiative started three years ago and was based on the idea that everybody could use 4shared components. Although the task hasn't been done totally till now, 4shared made much progress and 4shared API Developer Program which started not so long ago is one of the results.
Within around 100 elements that can be used for developing of your apps for Mobile Phones (iPhone, Android, Symbian, Blackberry, Windows mobile), Windows, Mac, iPad, and Linux 4shared has already introduced 3 participants – 4S Player, QuickCam and Super Files. Contacts Backup Over 4shared is the 4th introduced application. Every winner of the 4shared API Program gets $ 5, 000.
Contacts Backup Over 4shared provides you with an assurance that your contacts will stay unhurt in case something happen with your iPhone and information is deleted. Within this brilliant app you back up your contacts wirelessly. PC is absolutely needless. Besides, you can easily transfer your contacts between iPhones, iTouches, and iPads either.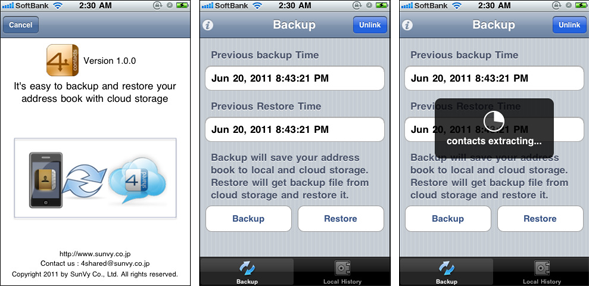 Most of iPhone users suppose that syncing their iPhone without deleting contacts is impossible. Within backup you save your contacts to local storage and 4shared simultaneously. So just install this app and don't worry about staying in contact with your friends. Moreover, if you uninstall Contacts Backup, all backup files in local storage will disappear, but will stay safe in your 4shared account.
Don't hesitate, install it now and the next time, you'll be restoring your iPhone, everything will return to the right place. Contacts Backup application is available on iTunes.
&nbsp
Like this post? Share it!