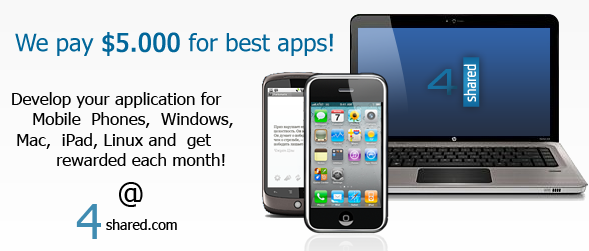 4shared has always focused on building ways for people to share files with each other. During last six years we've been providing our users with a number of useful applications to make their filesharing experience better than ever before.
Three years ago we have introduced the concept of 4shared SOAP API (Application Programming Interface), which is the idea that everybody could use 4shared components. However, until now it hasn't been possible to easily do this. Today we are making it so all developers can work together to build new apps using 4shared SOAP API. We offer a simple set of tools that developers around the world can use to personalize experiences and build out the brand new applications.

There are more than 100 elements that can be used for developing of your own apps for Mobile Phones (iPhone, Android, Symbian, Blackberry, Windows mobile), Windows, Mac, iPad, and Linux. The most popular ones include:
access web account
upload/download files
search files
create and delete folders
synchronize files and folders
restore files
get files info
get direct links to files
adding files to account
and much more…
4shared Desktop is a good example of PC/Mac application that is using 4shared SOAP API. This application allows uploading and downloading hundreds of files simultaneously using 4shared.com. 4shared Desktop supports drag&drop, synchronization, protecting files with passwords, adding folders to users personal 4shared page, quick links to files for sharing data with via e-mail, blogs and forums etc.
Considering apps for mobile which were developed with 4shared SOAP API you can always check out our 4shared Mobile applications for Android, Symbian and BlackBerry which give you an opportunity to manage your online 4shared account and browse all the content of 4shared.com.
So, why not develop you own application using 4shared SOAP API and get $5,000 with free promotion at 4shared?



1. Read 4shared API documentation.
2. Make your app using any 4shared SOAP API functions you need.
3. Test your app. It should work fine with no bugs.
4. Register free account at 4shared and upload your application.
5. Mail us direct link to your app to developers@4shared.com.
6. Get a chance to get $5,000 after we review your app.
&nbsp
Like this post? Share it!