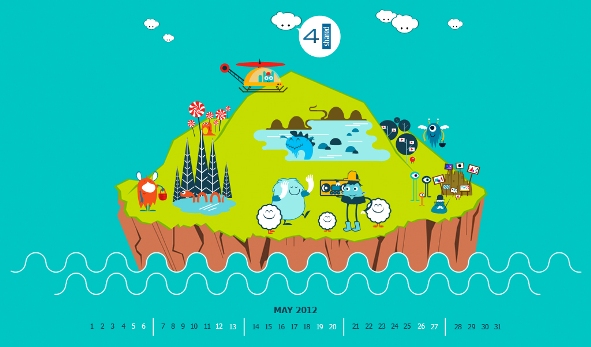 Spring is in bloom and 4shared has prepared an amazing surprise to brighten up your May daily routine and enliven your computers, smartphones and tablets – brand-new 4shared May 2012 Calendar!
Read on for more details.
May is, undoubtedly, the most blooming month of spring, when all nature has already woken up and is celebrating the feast of life in the world. Therefore, we have designed the colourful 4shared May 2012 Calendar for you, our loyal fans, to enlighten your mood and, of course, enliven your desktops.
The exquisite 4shared May 2012 Calendar tells a story of the most special community in the world, surrounded by numerous legends. This community was composed long ago by various fairy creatures from different parts of the world, which get together on their formerly bought island only for one day every year, discuss the news and have a great time with the old friends.
The merriest member of the "We-don't-call-ourselves-in-any-way" community is, certainly, Furst, the middle-aged Yeti from the North of Iceland. The reason of his incredible mood is that he can dance as much as he can only during the annual get-together, as he can't spoil his severe image at home.
Furst's best friend is Charles Dooon, who prefers calling himself DJ Chuck-Chuck and always takes his boombox to the "We-don't-call-ourselves-in-any-way" community meeting. Unlike at home in the USA, where Dj Chuck-Chuck is famous as one of the most underground DJ's and no one knows him in person, he is usually very sociable at the island meeting and tends to play the most positive tracks.
Rumour has it, that due to the common happy spirit of the meeting, even the clouds turn joyful during the annual get-together of "We-don't-call-ourselves-in-any-way" community, so it's always sunny and warm on the island!
Check 4shared May 2012 Calendar in Smashing Magazine Calendar Selection and join the feast of Furst, Dj Chuck-Chuck and other members of "We-don't-call-ourselves-in-any-way" community. Download the FREE 4shared May 2012 Calendar and share your impressions with us.
4shared: Miracles Become Reality!
&nbsp
Like this post? Share it!