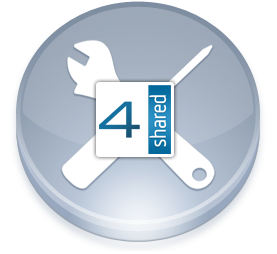 4shared is a powerful web instrument that allows users to download, upload and backup files online. Register, get yourself 15 GBs of free space, login to your 4shared account and start working! Is it possible to make this process even easier? Of course it is!
Check out our amazing free tools and get instant access to ~30 millions of pics, music files, videos, docs and other files with your PC, Browser & Mobile phones!

---
4shared Desktop


Uploading hundreds of files for the purposes of backuping or sharing with others is not a problem anymore! You haven't tried it yet? Then read below to find out how 4shared Desktop can make everything nice & dandy!
4shared Desktop allows you to accomplish following goals:
1. simple drag&drop files to upload them to your 4shared account;
2. right-click on any file and you'll get additional option "Upload to 4shared" in the standard contextual Windows menu;
3. convenient multiupload;
4. keep your files on 4shared account up to date using Synchronization option (currently works in beta mode);
5. protect your files with passwords;
6. add folders to your personal 4shared page;
7. get quick links to your files to share your data with your friends via e-mail, blogs and forums;
8. copy, paste, delete and cut multiple files within your 4shared account;
9. send feedback and upgrade your 4shared Desktop application if needed;
10. view the history of all your actions with the help of automatically generated log.
Start using 4shared Desktop right now! Download it, read the installation manual and use this program for your own good!
>>>Download 4shared Desktop<<<
---
4shared Mobile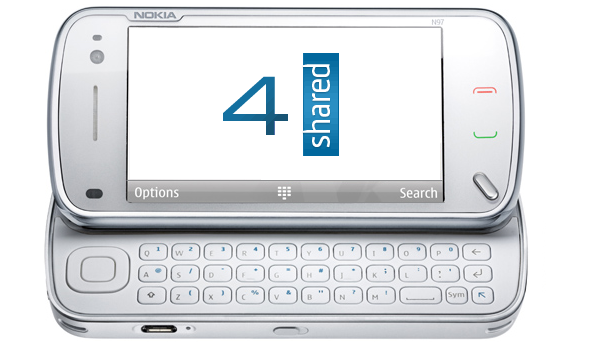 4shared Mobile is a useful application, that allows Symbian OS based mobile phones users to get instant access to their 4shared accounts.
Other important features of 4shared Mobile include:
1. unique search system;
2. creating folders to separate your files in a convenient way so you'll always be able to find your stuff as quickly as possible!
3. listening to your favourite tracks and showing your coolest pics by adding them to your list of favourite files;
4. uploading files and folders to your 4shared account from your phone immediately!
5. updating your 4shared Mobile app. any time a new version is available.
So, why not put the whole world in your pocket with 4shared Mobile?
>>>Download 4shared Mobile for Symbian OS<<<
---
4shared Toolbar



4shared Toolbar combines a dozen of features in one convenient, compact and cool looking application that will allow you to have a quick access to downloading files, playing games, listening to radio, watching TV and other useful stuff just from your browser! Check out other amazing features of the 4shared Toolbar below:
1. a direct access to 4shared account and 4shared.com search;
2. login to your Facebook account or any other of 21 popular social media sites;
3. watch digital TV by streaming over 100 channels from USA, UK, Italy, Germany, Holland, France & Spain!
4. there are 24 radio stations which play pop, rock, rap and classic!
5. check out the weather in your home town right away;
6. you'll never miss your new mail with 4shared Toolbar E-mail Notifier;
7. a direct access to the Game Arcade and other entertainments too!
8. add any other application you want from Conduit Apps!
9. search for images, news, eBay products and much more;
10. test your browser speed with the special button!
4shared Toolbar is a simple and multifunctional toolbar which serves much more purposes then just keeping you in touch with your 4shared account. Make your life easier and more comfortable with 4shared Toolbar right now!
>>>Download 4shared Toolbar<<<
&nbsp
Like this post? Share it!