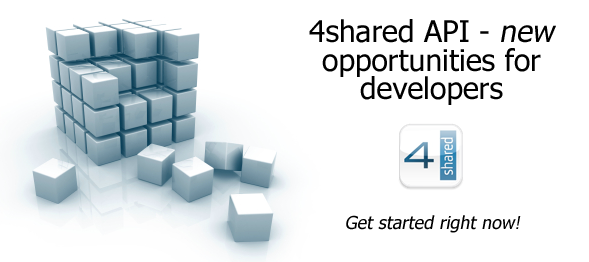 We are glad to announce that each app developer, who uses 4shared API will get 1 million banner impressions of the application at 4shared.com! Read more for details.

What does this mean?
1. Free advertisement and app promotion: 1 million banner impressions of the app at 4shared is a perfect way to promote your application, as each day around 200,000 of new users will learn about your app! This will allow you to increase the number of downloads of your app to a great extent!
2. New target audience: 1 million banner impressions of the app at 4shared enable you to attract additional target audience of your app. That is, the members of 4shared community will learn about your app and enjoy using its convenient features!!!
---
Therefore, if you are an inquisitive developer and wish to participate in
4shared API Program
, you can get started developing your application for Mobile Phones (iPhone, Android, Symbian, Blackberry, Windows mobile), Windows, Mac, iPad, and Linux
TODAY
!
You may easily use more than 100 API functions to perform any actions with 4shared like – access web account, upload\download files, search files, create and delete folders, etc.
4shared API is totally free for all developers, who are ready to integrate 4shared API into their already created apps or develop a brand-new app with 4shared API!
All required samples you may find at 4shared API documentation. Any questions regarding 4shared developer program you may discuss at our forum.
&nbsp
Like this post? Share it!