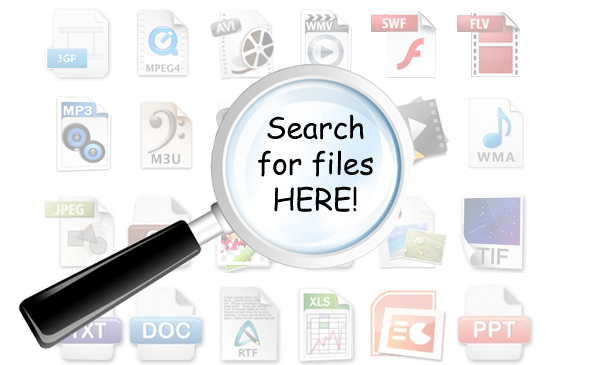 You can always rely on 4shared.com in terms of searching files using our advanced search system that will allow you to find anything you want in the shortest period of time and most comfortable way possible. So lets go through the searching process using all the features we have carefully developed for your convenience!

The first thing you see when visiting the 4shared.com site is the search panel in the right where you can start your search right away typing your search request and pressing "Search" button: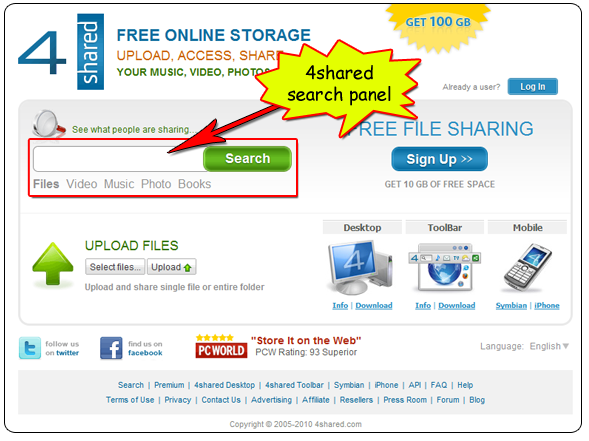 …but before you do that it's better to get acquainted with the few useful search options which will make your search via 4shared more effective and comfortable.
You can search files by:
1. date of upload
2. number of downloads
3. size
4. file type
5. keywords
You can also choose increasing or decreasing order results for any of these search options (except keywords). So, lets find something together to illustrate this simple process!
Searching for some… cats?
1. for some reason you've developed an unstoppable urge to find some cute cats pics. Why not? Enter the word "cat" in the search box and press "Search" button: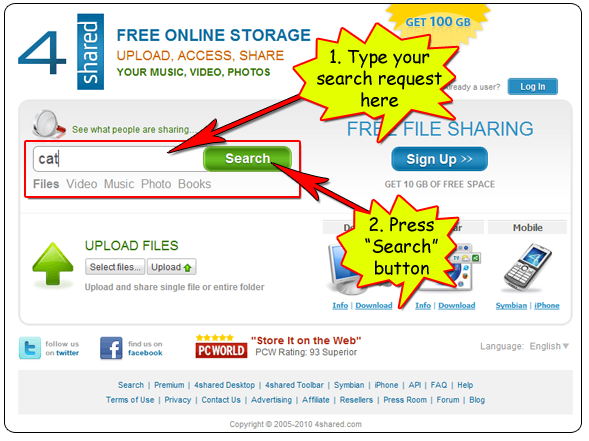 …or wait for keywords to appear and click on the appropriate one. In our case it would be "cat":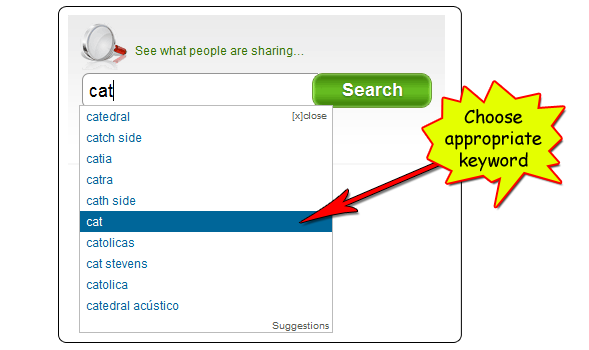 2. no matter what you did in the previous step you will get something like this: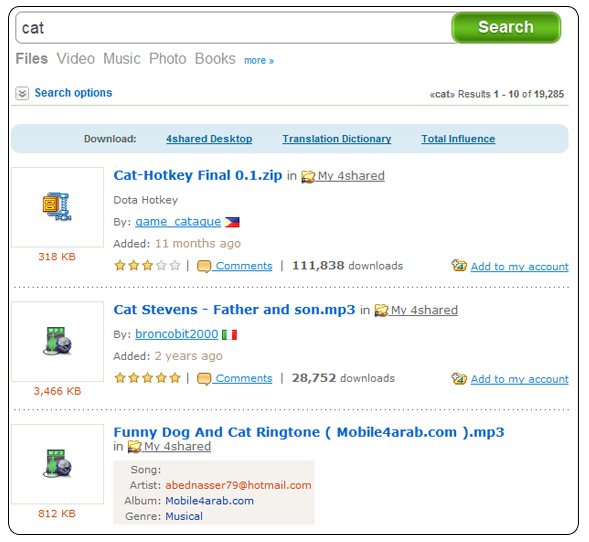 …not much, huh? No worries! Advanced search to the rescue! Press "Search options" link: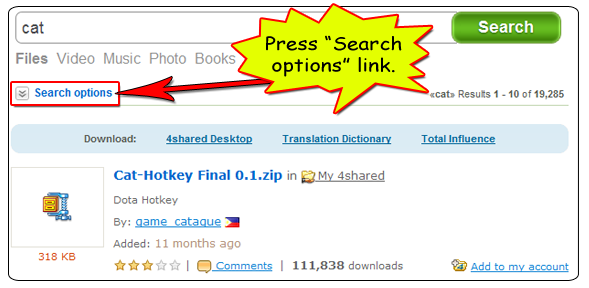 …and you'll get a nice bunch of options to choose from!



3. so, lets check some additional options here clicking on the "Type of file" dropdown menu: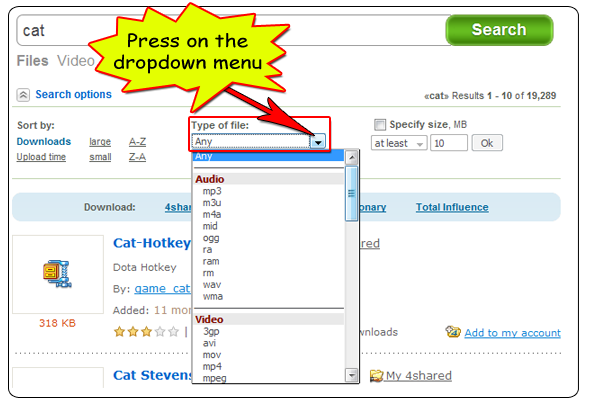 …scrolling it a down a bit and choosing the "Photo" option: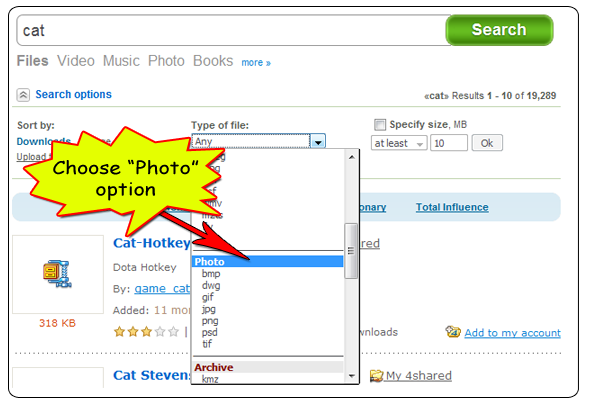 …and getting a total number of 2.702 results right away!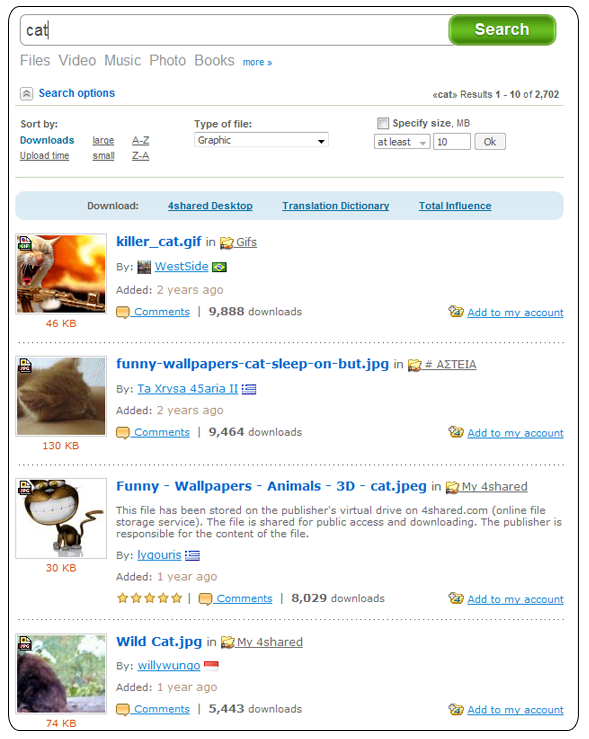 4. see the uploaders name, number of pics downloads and other users comments on it: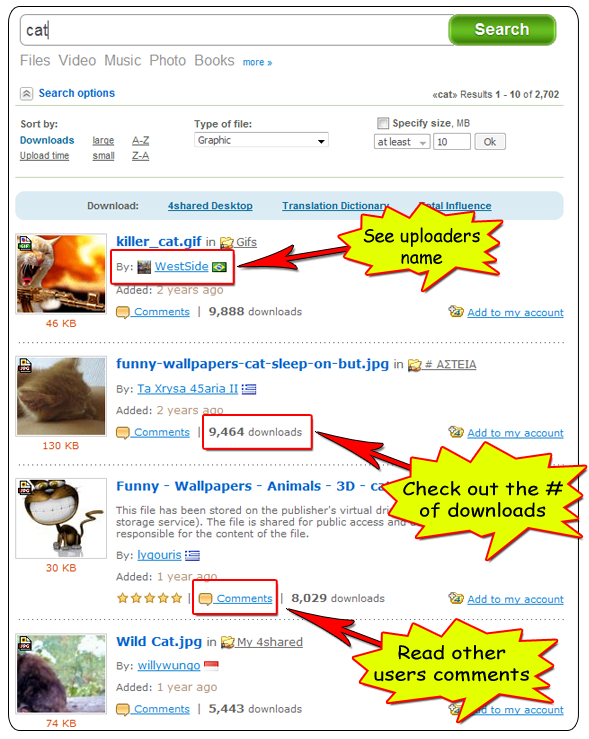 …and finally add your favorite pics to your account by pressing "Add to my account" link: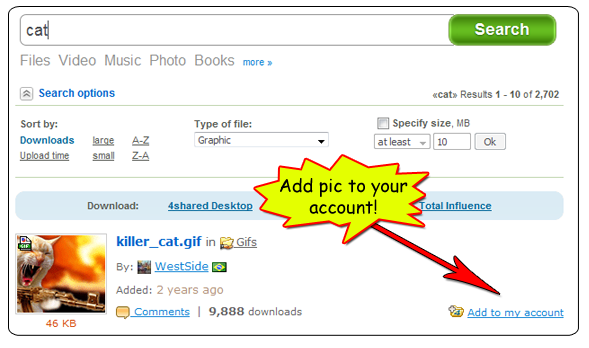 I wouldn't be shocked if somebody would rather search for something else than cats pics, so…
Lets have a close look at other file formats…
Most of the file hosting services don't allow you to do one simple thing – to choose file formats as a search parameter. So you may have a question: "How that could be possibly useful for me?". Thats a really simple one. The are four main file types people usually search:
1. Videos
2. Music
3. Images
4. Books
You'd probably seen those as a category headers on 4shared.com main page. Well, this is not a coincidence. You probably also know that each type of files has its' own specific formats. Well, each of the file format has specifics too and you can dramatically improve your searching experience with 4shared! Just take a look at the manual below to find out basic information about the most popular file formats we've got here…
Video formats



Everybody likes watching funny videos of other people, colorful movie trailers, rock/pop gigs shootings or hilarious flash cartoons. If you're going to search something like that than you should know, that *.3GP
and *.mp4 file formats are mostly used in mobile phones, so if you want some funny life action made by other 4shared users, *.3GP and *.mp4 are your choice. Their picture quality is mostly low and they don't weight much.
If you seek for something with the bigger resolution you should probably check out *.avi, *.mpeg, *.wmv or even *.m2ts (this format is used to store data on Blu-Ray discs). These formats are commonly used for movies so if you want to watch some – take your time and enjoy. The only thing you should know about *.avi format is that it uses different codecs to store video data. This means that you can eventually run into a file that you won't be able to watch with your player unless you download a needed codec. So be careful and update your favorite video player frequently. *.m2ts format also has its own special characteristic – it can weight tens of GBs so don't mess around with them or you might trash your HDD to death. Just kiddin'.
And what about flash formats? Lets talk about them too! There are usually only two of them including *.swf and *.flv. The first one is used for cartoons and other kinds of animated movies and the second one – on Youtube and other alike services.
Audio formats



Well, you all know *.mp3. I mean if somebody even don't know what it is he or she had definitely heard about it. It's compact, can sound pretty good and understandable for almost all modern digital and analog audio players. So no questions with that. People who use WinAmp should also recognize *.m3u format which serves as a simple list of *.mp3 files without containing any audio by itself. No questions with that either. But what about *.mid, *.ogg, *.ra, *.ram and *.rm? Do you know what stands for those letters? "mid" – for midget, "ogg" for Oggy (the one with cockroaches), "ra" – for Egyptian god, "ram" – for random-access memory…? Nope. Not really.
"mid" stands for MIDI, a digital audio format which is often used by musicians to write and store simple music (so if you're a musician too – take note of that), "ogg" – is similar to *.mp3 but with the better sound quality (and less players able to play it), and "ra", "ram" and "rm" are the formats which can be played by Real Player only.
There is also *.wma format which can be normally transformed into *.mp3 or any other popular audio format. This mean it's not really optimized therefor "heavy" in terms of MBs.
Images formats



Images are no exception in the means of having dozens of different formats. Each of them is more suitable for specific goals. For example *.jpg is usually used for web so jpg pics are often having lousy quality and no transparency, *.gif can be animations as well, *.bmp are uncompressed by the nature so don't be surprised by their size and *.png is literally lossless image format that can be often seen in the Internet. If you're a designer you might be interested in *.psd as this format was specifically designed to store Adobe Photoshop projects and can contain design layouts and other valuable visual elements you would like to see and use with the help of other 4shared users who were kindly enough to put their work online.
Books formats



*.txt documents can hold only text and ASCII paintings while*.doc and *.rtf are one the most spread books formats which you can obviously read with Microsoft Word or Google Docs. *.xls could be any simple database or anything else someone would put inside – you can open it with Microsoft Excel anyway. *.pps and *.ppt are mostly used for reach presentations with great visual and sound effects. The standard PowerPoint should be OK with them so if you're looking for an original slide show templates don't hesitate to search some *.ppt (you can't edit *.pps as they are solid files that are ready for viewing).
Other formats



There are quite a few other file formats you can search via 4shared. *.rar and *.zip are classic archives that can hold pretty much anything inside (videos, pics, music, books – whatever), *.htm and *.html can be basically just a bunch of saved web pages that can contain text, images and other related stuff, *.exe is a standard executable Windows file which can be a part of some application or the application itself, *.jar is somehow related to a *.zip archive but the only difference is that it holds java files only (a *.jar archives are often used for mobile phones and smart phones as well as the *.nth, *.sis and *.prc).
Keep those advices in your mind and let your 4shared surfing will be effective! Good luck!
&nbsp
Like this post? Share it!