Video – is an ideal instrument for promotion as it can combine visual objects and sound in the same time. You can film literally everything, even those things which don't really exist (like Aquaman, for example). This opens really great opportunities for everybody! Got a restaurant? Film it, tell about your exclusive cuisine and put the the results online for your potential costumers to see! Have a rock band? Make a music video and soon everybody will recognize you! Dreaming to be the next Steven Spielberg? Than shoot your astonishing ideas right away! Got no idea where to start? Than start with 4shared.com and we will tell you all the details below…
Store, share and stream any video at 4shared:




You must know, that 4shared supports different video formats. So if you're planning to put something online you'd better check them out and figure which one will suit you best:
1. *.3GP and *.mp4. These ones are often used in mobile phones, their quality is mostly low and they don't weight much. People who search these file formats are expecting to see funny (or interesting/thrilling) life action.
2. *.avi, *.mpeg, *.wmv and *.m2ts. These video formats are usually have bigger resolution and better picture quality so they're good for filming more or less professional movies. Note that *.avi format uses different codecs to store video data. So, eventually, some 4shared users won't be able to watch your video unless they download a needed codec that you've used. *.m2ts format is used to store data on Blu-Ray discs and the final file can weight tens of GBs so not everybody will be happy to download such a monster.
3. *.swf and *.flv. The first one is good if you're planning to make some kind of animated movie using Adobe Flash technologies otherwise it doesn't make too much sense. The second one is good for Youtube so that be a good choice if you're thinking of putting your video there too.
4shared.com is a perfect service that can provide you with all necessary tools to promote yourself and your business with videos:
1. free space to store your videos (up to 15 GB!);
2. your personal page with all your videos info;
3. free viewers and downloads;
4. rating, user comments and statistics of your videos;
5. further sharing via social media sites, blogs and forums without any additional trouble.
Get started!
1. get a free account at 4shared.com;
2. login to your account and upload your movie file via online interface using standard mode…



…or multi mode…



…or with the help of our Desktop application: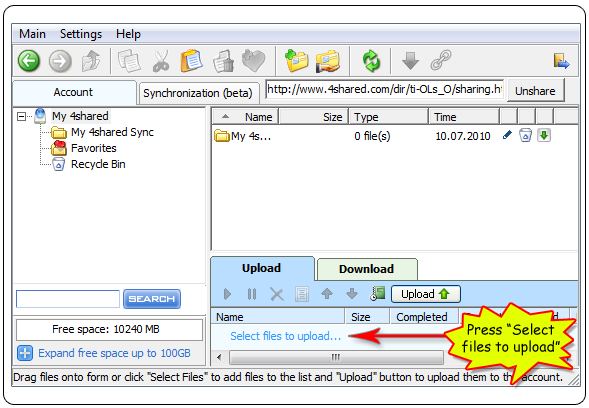 …where you can press "Select files to upload", choose needed file and watch the uploading progress:



…and share them with others by pressing the right mouse button on the desired folder (mind that you can share only folders with files inside; no sharing for homeless single files, sorry) and choosing "Sharing&Security …" option: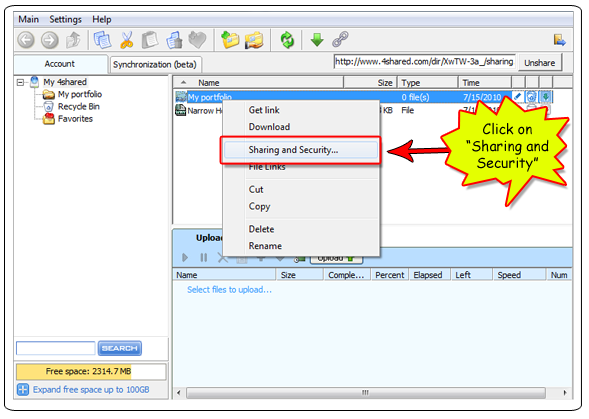 …and checking "Share this folder" option:



3. get an individual page with all your stats…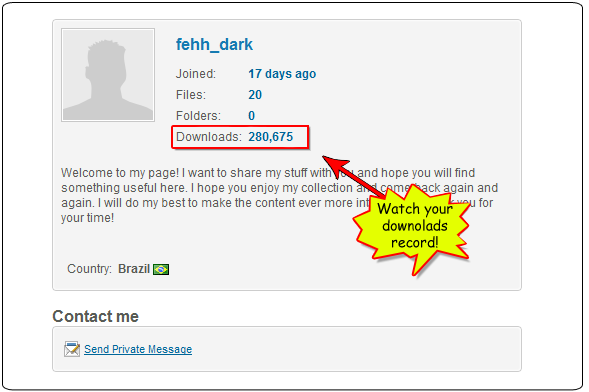 4. receive free information about the rating, number of views of your videos and other users' comments on file page instantly… and don't forget to share your movies with boards, forums, blogs and other social media sites!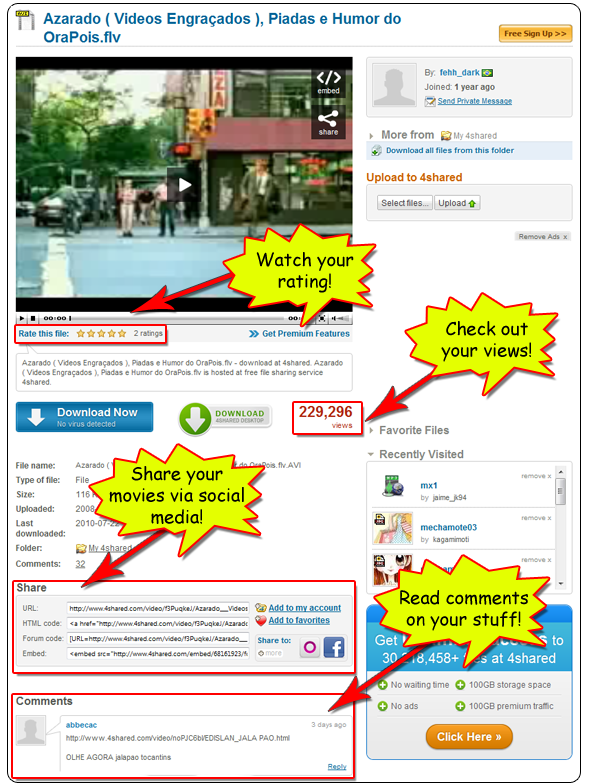 5. watch your movie on the file page using our multi functional player: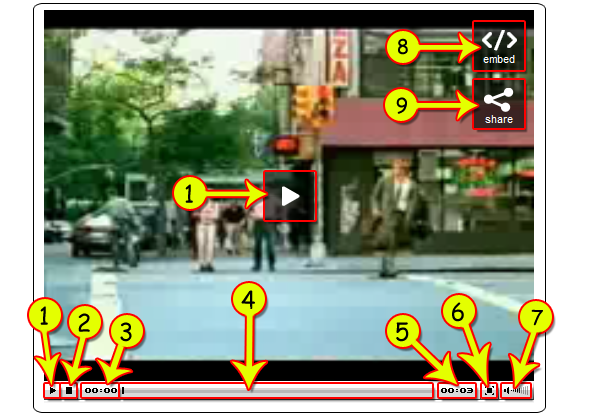 …where:
1 is "Play" button pressing which will start the movie
2 is "Stop" button which will stop playing movie
3 is time you've already spend watching the movie
4 is time track which allows you to rewind the movie forward or backward
5 is total running time of the movie
6 is changing viewing mode to the full screen
7 is adjusting the volume of the sound
8 is giving you an embed code to post this movie elsewhere
9 is giving you a share link for sending to your friends via instant messengers, Facebook, Twitter, Myspace and Email
5. watch your movies using your online 4shared.com account. Press "play" button…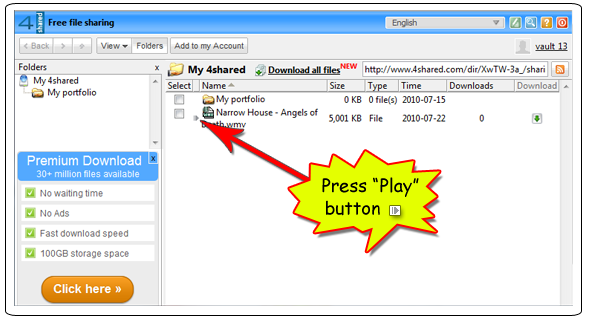 …and the player will automatically pop-up to show your film right away!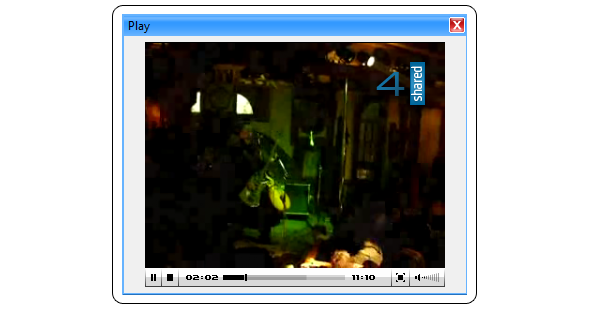 No need to waste your money and time on creating web-site, design, buying domain and hosting and other nasty things you haven't even heard about to promote yourself or your business – you already have all that and even more on 4shared.com absolutely free! Concentrate on your favorite work and forget about everything else.
Register right now and start promoting yourself with videos immediately!
&nbsp
Like this post? Share it!