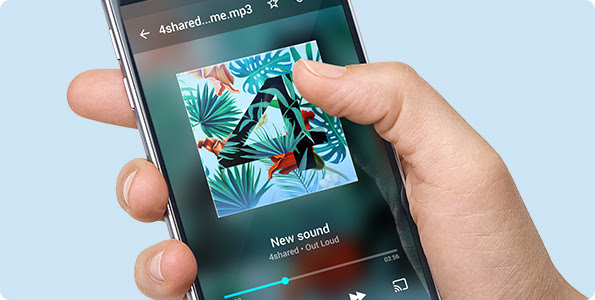 It's finally here! The 4shared team is happy to announce the release of the improved 4shared for Android app that has new design and a vast array of beneficial features!
Even though you don't usually judge a book by its cover, the improved, material design 4shared for Android app looks absolutely spot on. As for its functional core, 4shared for Android has also undergone substantial changes, as we have implemented a set of new beneficial features in it.
Advanced search in categories
We have added an easy-to-use floating "Search" button, so that you can surf for files faster and easier – just in one tap on it.
Then, swipe right the list of displayed search results to browse them by category e.g. music, photo, video, etc.
If you wish to search for files in a specific category right away, long-tap the "Search" button and select the category you wish.
Found the file you needed? Add it to your 4shared account for further browsing in a few taps.
Enjoy searching through "Favorites" easily, too.
Offline browsing of your "Favorites"
We have implemented a new, beneficial section in your 4shared for Android, where you can save files for further offline browsing – your "Favorites" folder.
It's simple – tap a "Star" icon to be able to access and browse the file even if there's no Internet connection.
New music streaming options
We've added the new "Suggested songs" section. This means you can now browse through and stream tracks, similar to a currently playing one – just like in a playlist.
It's easy, just tap on the tab below the music player area to expand the list of suggested songs.
Improved upload & sharing features
It has become easier to upload files to your account via 4shared for Android and share them with others the way you wish.
Moreover, now you can also apply the advanced folder sharing options and assign "Upload & Edit" or "View Only" access permissions to particular people, who you're sharing the folder with.
Current/past activities in your "Feed"
The improved 4shared for Android includes a special "Feed" section, where you can track your current and past activities, e.g. uploads/downloads, files, added to "Favorites", new comments, etc.
Extra 4shared account protection
It is now possible to add a unique security pattern to your 4shared for Android app and ensure that your 4shared account is extra-protected.
Have you checked the new gorgeous 4shared for Android yet? Install the updated app version and try out its cutting-edge features yourself.
&nbsp
Like this post? Share it!