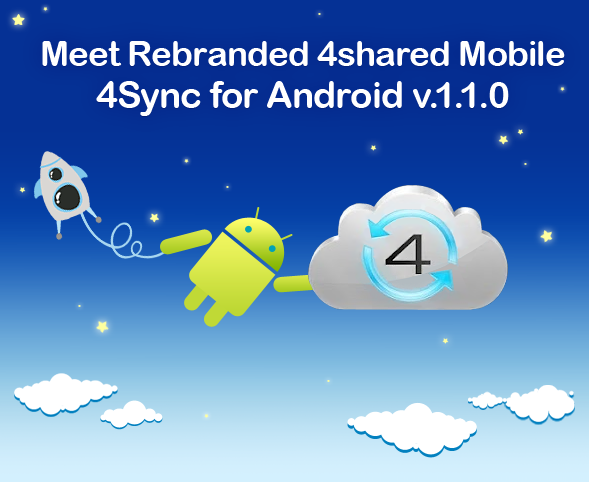 Great news! We at 4shared are very excited about our rebranded 4shared Mobile application for Android devices – 4Sync for Android v.1.1.0.
Read on for more details.
Shortly after presenting our users with upgraded design and functionality of our official site, we are happy to introduce you with the fresh, renewed and rebranded mobile app for Android smartphones and tablets – 4Sync for Android v.1.1.0.
4Sync for Android v.1.1.0 features a great deal of updates and a range of added functions, like our new, intuitive interface.
The new, innovative 4Sync for Android v.1.1.0 has an updated colorful "Cloud" logo, and a modified, lighter interface color scheme.
We also added a special preview feature so you can browse photos in a more convenient way. You can also stream all your audio files via a user-friendly built-in app music player with helpful navigation options.
In case you need assistance in using any of the app features, you can browse through the newly-added thorough Help section that includes answers to your most frequently asked questions.
Brand-new 4Sync for Android v.1.1.0 is integrated with Socialize, which allows you to communicate with other app users in different parts of the world; you can comment, like or share files with them in a few clicks.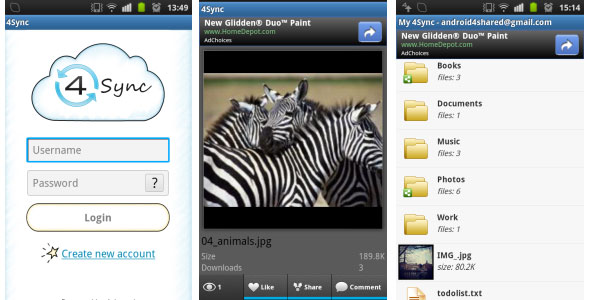 Not to worry, 4Sync for Android v.1.1.0 still has your favorite features from the old version of 4shared Mobile, such as:
1. Quick direct access to your 4shared account from your Android smartphone or tablet.
2. Easy-to-use file and folder management within your 4shared account.
3. An opportunity to share links to your files via e-mail with your family, friends, colleagues.
4. 4Sync for Android v.1.1.0 s 100% free for download for all users.
Are you excited to try the rebranded 4Sync for Android v.1.1.0?
Download it now and let us know what you think.
4Sync for Android: New Beginnings & New Achievements!
&nbsp
Like this post? Share it!