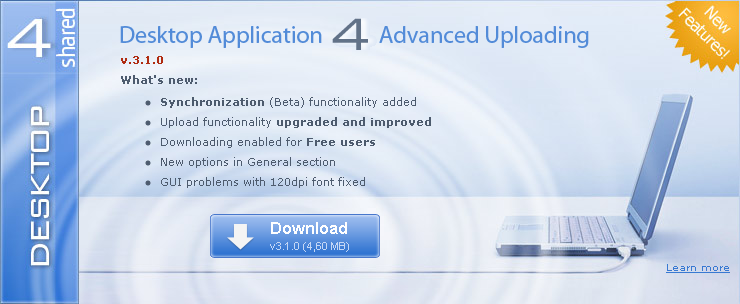 Dealing with piles of data on the daily basis sometimes really drives us crazy and cause headache. 4shared Desktop is a tool designed specifically to kill this pain.


With 4shared Desktop you can go further, do more with your files and much
faster. Once you try it you will see how better and easier your data can be managed through 4shared Desktop functionality. Uploading multiple files speeds up the routine upload process and really saves plenty of your time.
Moreover, 4shared Desktop provides a way better security of your data and allows resuming interrupted file uploads and downloads. Of course, that's not all, but you'd better check it yourself and see 4shared desktop use on real life.
4shared Desktop benefits:
– Significantly faster upload and download speed
– Ability to restore download\upload process if internet connection crashed
– User friendly interface, easy to use
– Absolutely FREE
Get you own version of 4shared desktop now!


&nbsp
Like this post? Share it!