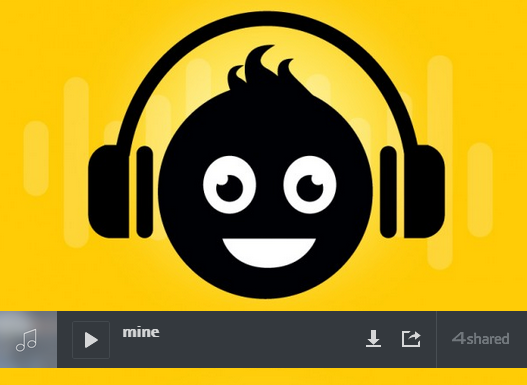 Here it goes, guys – the fresh post in the "Unlock 4shared Features" section, now covering one of the most useful options, available for our users – the cutting-edge 4shared Embed Audio widget.
What are the 4shared Embed Audio benefits?
The exclusive 4shared Embed Audio widget allows the direct streaming of your music anywhere on the Web, e.g. your blog, social profile or music forum pages – without any additional software or plug-ins.
Therefore, the feature is exceptionally beneficial for artists, musicians and bloggers.
Namely, musicians can use the 4shared Embed Audio widget to share their latest podcasts and samples; get instant feedback from their community and drive their fans' engagement easily.
Meanwhile, bloggers can add energy and set up their readers' mood via embedding music to the blog pages for background listening.
Moreover, the use of 4shared Embed Audio widget doesn't imply the upload of music files to a blog/forum page, so there's no need to worry about the page load or the music streaming speed anymore.
How to apply the feature?
As mentioned above, the 4shared Embed Audio widget is super easy to apply.
To access and post the music embed code, you only need to do the following:
1. Find the podcast or track in your 4shared account and click "Share".
2. Go to the "Embed" tab in the opened pop-up window.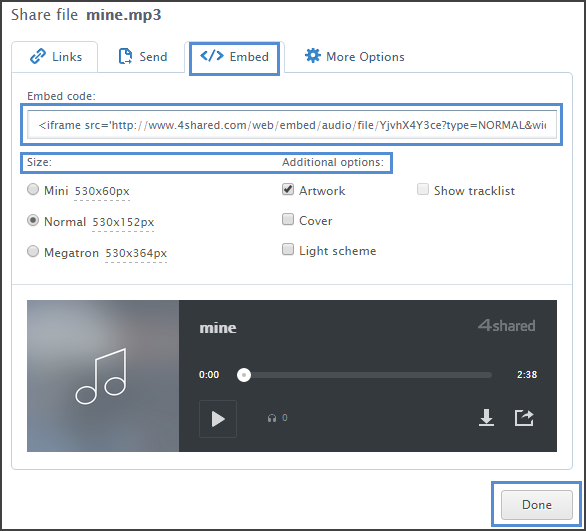 3. Select one of the player size and color theme options.
4. Copy the embed code and paste it where you wish on the Web.
Have you tried the 4shared Embed Audio widget yet? Check it out now and share your impressions about the feature with us.
Explore Innovation with 4shared!
&nbsp
Like this post? Share it!