In addition to already existing 4shared Facebook pages 4shared Official, Desktop 4shared and 4shared API Program fan pages, we have also opened Facebook fan pages for our mobile applications and 4shared Music application, separately.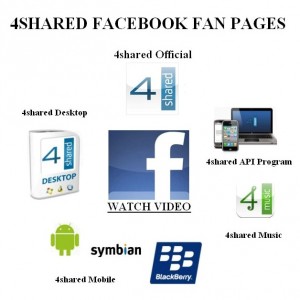 Facebook pages 4shared Mobile Android, 4shared Mobile Symbian and 4shared Mobile Blackberry:
These Facebook fan pages comprise all essential information about amazingly convenient 4shared mobile applications, with which you can:
– get access to 30,000,000+ files;
– manage your web account;
– listen to music and watch video on your phone.
4shared Music fan page on Facebook is dedicated to user-friendly 4shared application for Android smartphones, which lets you:
– get instant access to all music files on 4shared and your personal account;
– search and get direct access to any music files from 4shared on your Android smartphone anytime and anywhere;
– add tracks to the playlist, and listen to the music from it whenever you wish to with "Manage your Playlist" option;
– get 10 GB storage space for all your favorite files.
4shared fan community on Facebook already exceeds 11, 000 people and you can easily become a member, too.
Join our groups now and learn about our news and updates, participate in various exciting contests and expand your digital horizons with 4shared!
&nbsp
Like this post? Share it!