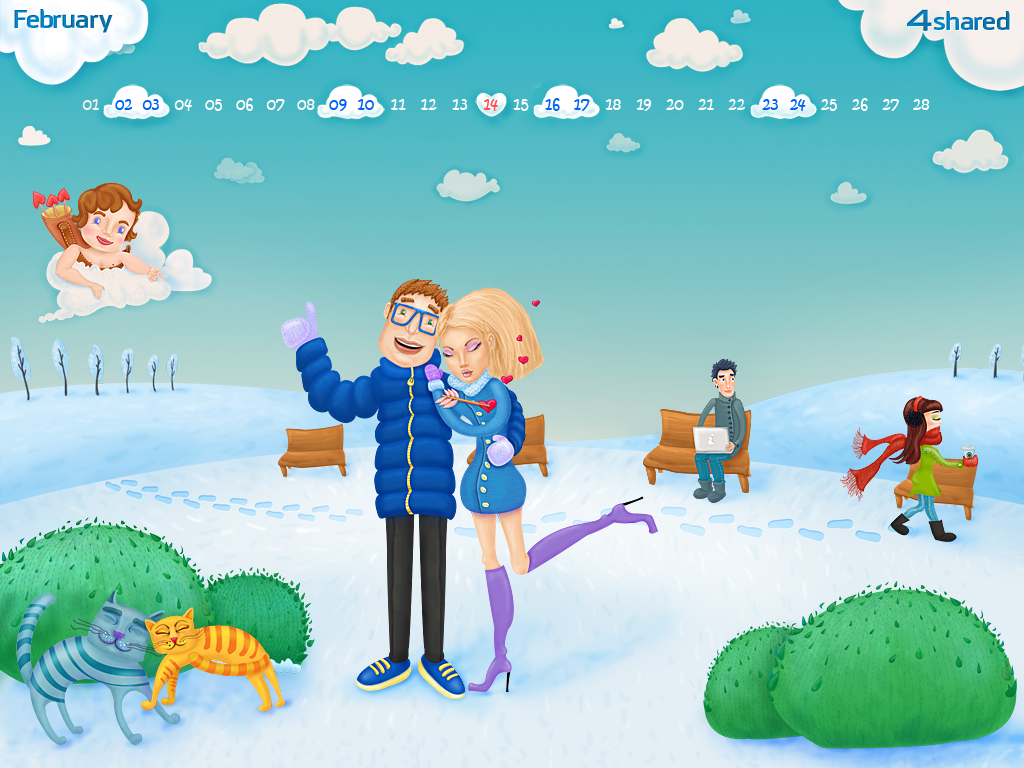 Love is in the air this February! The last month of winter is always very romantic and inspires us to open our hearts and express our feelings to ones we love very much.
Our
4shared February 2013 Calendar
illustrates one unusual story of a young couple, who met each other by an accident. This magical story of love took place in one of the most beautiful February mornings. The city was just waking up and it was cold and very icy. Grace decided to take a short walk through the park on way to her work. She was wearing her blue coat, purple high boots and a ring her mother gave her as a special gift for her 18th birthday. Walking through the benches alley she noticed a guy sitting on the one of them. Grace stopped for a while, because it was really extremely icy and she was about to fall, but she didn't. He jumped to catch her and they smiled kindly to each other. It seemed to him that a real angel brought down to earth to became his beloved. But she kept going…
When Grace arrived at work she realized that she had lost her special ring. She was really upset. But suddenly one wise saying of her mother came to her mind: "Things are usually lost where you stopped once". And Grace went to the park to find her lost ring with tears in her eyes. When she came back to the bench where a guy was still sitting and, as it seemed, waiting for her. She asked hopefully whether he had seen a golden ring. He answered: "Things are usually lost where you stopped once…I have been waiting here with a hope you know it. I'm Dave…".
Download 4shared February 2013 Calendar to share it with your beloved.
1024×768
1024×1024
1280×800
1280×1024
1366×768
1680×1050
1920×1080
1920×1200
2560×1440
&nbsp
Like this post? Share it!