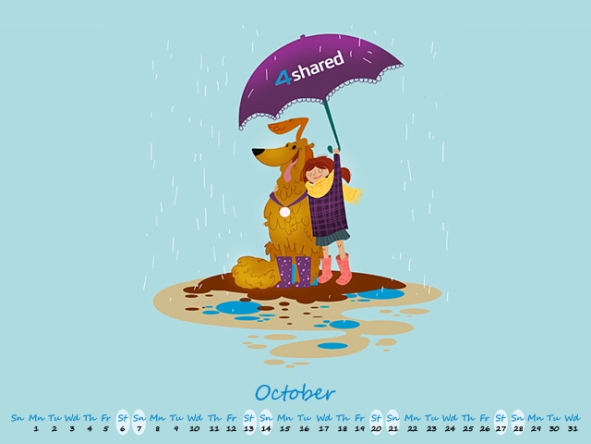 More surprises from 4shared!
Exclusive 4shared October 2012 Calendar is already out!
Read on for more details.
Time flies! It seems like September has just started and here we are, in the middle of October. At 4shared we never miss an opportunity to present you with astonishing featured 4shared October 2012 Calendar to accessorize your computers and mobile devices.
This month's calendar illustrates a story of Dafna, an 11-year old, happy owner of the strangest dog in the world, named Jack-Sparrot. Dafna found her dog 5 years ago in a deserted parking lot, back when he was just a cute, little puppy. The vet said that the dog's breed was a Miniature Pinscher, but he made a mistake.
In the last 5 years Jack-Sparrot grew to be taller and twice as much in weight, than Dafna and as his trainer admits he might not be done growing. The dog's size hasn't become an issue for the girl's family, they happen to live in the suburbs in a large cozy house. Jack quickly became the most famous dog in the whole countryside and won a great deal of awards and trophies in local competitions.
October happens to be Dafna's favorite month, and she enjoys walking in the park with Jack-Sparrot, even when it's raining. She even bought special rain-boots for her beloved dog, so that he'll never catch a cold.
Do you find Dafna and Jack-Sparrot amazing? Download 4shared October 2012 Calendar now and freshen up your desktops with it.
The Weather is Always Sunny at 4shared!
&nbsp
Like this post? Share it!