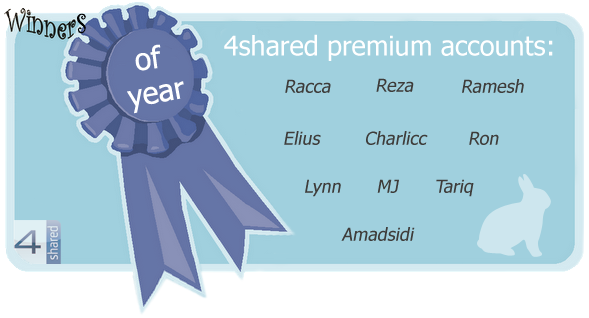 That's right, the contest we ran together with smashingapps.com for the past few weeks, is over! Almost 600 users took part in it but only 10 lucky ones won 4shared year premium accounts! Their names are:
1. Tariq
2. Reza
3. Charlicc
4. Lynn
5. Racca
6. Elius
7. Amadsidi
8. Ramesh
9. Ron
10. MJ
All winners are already mailed with details concerning their premium accounts. Happy new year, guys!

4shared Premium Account features:
Premium Traffic – amount of data you can download with premium features (100 GB).
Instant Download – no waiting time before each download begins.
Ads-free Download – no advertisements.
Download Speed – transfer speed priority (high).
Resume Downloads – resume broken transfers using download managers.
Max File Size – the maximum size of a file you are able to upload (5 GB).
Web Grab – upload files from the Web.
Storage Space – the size of the virtual drive you can use to store your files (100 GB).
Ads-free Sharing – no advertisements in your account.
Direct Links – hot links for download managers or embedding the file to web page.
&nbsp
Like this post? Share it!