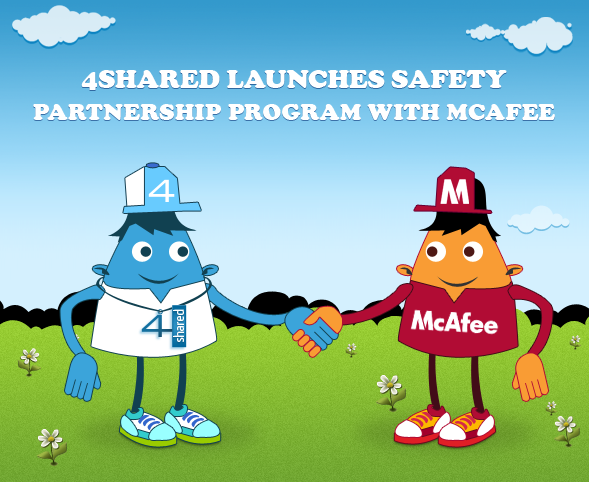 4shared launched a global partnership program with world-known security company anti-virus McAfee in order to provide complete security of all user files.

User data safety has always been one of the core principles and major goals for 4shared. The recently established partnership with McAfee is aimed at providing double-protection of any file or folder, stored at 4shared.com.
This collaboration includes massive anti-virus check offs of all data (e.g. music files, documents, books, videos, etc.) in 4shared file storage, so that users don't need to worry about the safety of their computers, smartphones or tablets, when they download data from 4shared.
The partnership with McAfee also presumes automatic testing of newly uploaded files, which is especially valuable for users who prefer checking and downloading the recently added data.
McAfee has years of experience in providing the highest levels of security and is recognized for applying most innovative technologies in their anti-malware testing. Our users no longer have to worry about the safety of files or folders, downloaded from 4shared.com.
About MacAfee:
McAfee is a subsidiary of Intel Corporation, recognized as the world's largest security technology company. McAfee is known to deliver proactive and proven solutions to help secure systems, networks, and mobile devices around the world. The company's clients include government agencies, business
enterprises of different size and millions of home users.
4shared & McAfee: All for Safety & Safety for All!
&nbsp
Like this post? Share it!