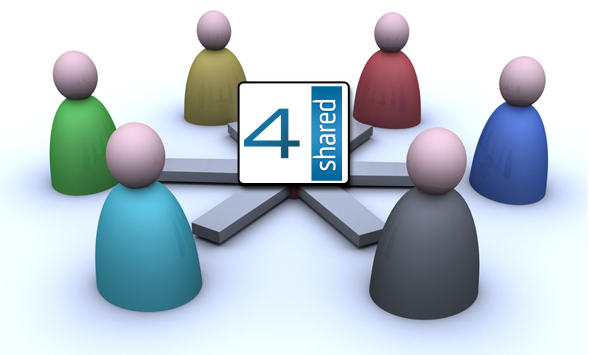 Business. Sounds pretty busy, isn't it? Being a businessman is pretty tough these days. You have to act quick and effective to be a successful one. And what is the most precious resources for a successful businessman? Time and information… and that pretty lady sitting next to you too. Well, I'm happy to say that 4shared.com can definitely help you with the first two. How? By minimizing your daily routine and giving you more time to do other important stuff and earn even more money then you had ever before!
Promote your goods & business with videos and presentations, announce events, share documents and much more with 4shared! Read below for details…

So, lets have a closer look at various opportunities which 4shared can offer to a real businessman:
1. Promoting your business
Uploading your price list, a beautiful presentation, podcast or even a promo video will definitely not hurt. Actually this is a really good way to promote your business for free as there over 11 millions people who visit 4shared daily! Mind that 4shared offers 15 GB of free HDD space to store users files and has a deeply developed internal search system that allows people to find exactly what they are looking for.
4shared is also SEO friendly web site which means that your files will be visible to any Internet user who is searching for something particular via Google, Yahoo etc. There are also multiple tools that help users to share their files via popular social media sites like Twitter and Orkut.
2. Announcing events
Imagine you have a meeting or a forum, or even a great discount sale and you want other people to know about this. The easiest way to do so is to make a free ad via 4shared uploading a teaser poster or a slide show to attract additional audience! Get free comments and ratings!
3. Sharing your documents with colleagues
So you've just finished your business plan and want to share it with your colleagues. And what if they don't sit next door to you? Are you going to send an e-mail to each of them with the business plan attached to a massage? Well, this will take much more time and effort then uploading this doc to your 4shared account and sharing a link with your buddies.
No need to waste your money and time on creating web-site, buying domain and hosting and other nasty things you haven't even heard about just to host some docs for other people to see – you already have all the tools you need on 4shared.com absolutely free!
4. Backuping & securing your data
A good businessman has always to keep his or her precious information safe and sound. But lets face it – nobody has time and will to backup personal files regularly. Luckily 4shared does this every day and gives you a guaranty that none of your files will be lost ever! Don't be afraid of viruses and hackers too as 4shared uses the most powerful firewalls to protect your data from the unauthorized access via the Internet.
5. Instant access to files
A successful businessman always travels much to establish new useful connections that will help to develop the business itself. But is it really necessary to take flash drives, disks or even external hard drives to keep your valuable information with you? Not anymore! All you need is Internet, and Internet can be found literally everywhere (unless you're going to sell refrigerators to the Eskimos, of course). Upload files to your 4shared account and have them any time you want with any Internet-connected PC or even a cell phone! Notice that you can also have an access to other users files as well!
There are many other benefits of using 4shared marketing:
1. Cost free – unlike other means of advertising, 4shared content is shown for free. There is no required budget for your campaign and not cost per click.
2. Global audience – 4shared marketing takes your website global. It is viewed by people all over the world.
3. Viral effect – interesting 4shared content that evoke any kind of positive response from users is usually shared with their friends and family members. As a result, soon your popularity increases with minimum effort. You simply have to upload a good content and your job is done.
4. Climbing up the ladder in Google's SERPs (Search Engine Result Pages). The popularity of your content increases by leaps and bounds with 4shared marketing which enhances yours content search engine visability.
5. Making your own customized profile – choose one of the 13 premade color schemes which will show your individuality and style!
Don't waste your time and start using 4shared right now!
Register and start promoting your business immediately!
&nbsp
Like this post? Share it!