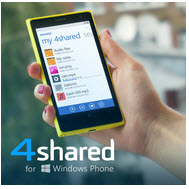 Yes, we did it! The 4shared team is delighted to introduce the upgraded version of 4shared for Windows Phone 1.1.3 that includes several crucial improvements.
Soon after the release of new apps and updates on Android and iOS, the 4shared team would like to share the incredible news for our Windows Phone users – the amazing 4shared for Windows Phone 1.1.3 is live!
Meet the new Download option
Following your recommendations on the updates in 4shared app for Windows Phone, we have included the new Download option in the latest version. Yes, you have heard it right!
From now on, you can easily download any file from 4shared directly in the particular Windows Phone  folders: "Saved Pictures"(for pics), "Music"(for audio files), "Videos" (for video files) and "Downloads" (for other file types) – just tap the "Download" button and the file will start downloading.
Either you wish to download a file from your 4shared account or the list of search results – it only takes a single step – just a tap the "Download" button with no extra effort!
And there's more….
The brand-new 4shared for Windows Phone 1.1.3 also includes a set of essential improvements in the in-app music player, all to make your streaming experience absolutely incredible!
What are you waiting for? Download 4shared for Windows Phone 1.1.3  in Windows Phone store right now and enjoy the next-gen app features.
Explore innovation with 4shared!
&nbsp
Like this post? Share it!