Could you just imagine how many people visit 4shared every day?!
Around 8 million! Amazing number, isn't it? Now imagine how many days/ years/ centuries will all those people need to visit famous events or sightseeing places of the world!!! We collected some curious facts.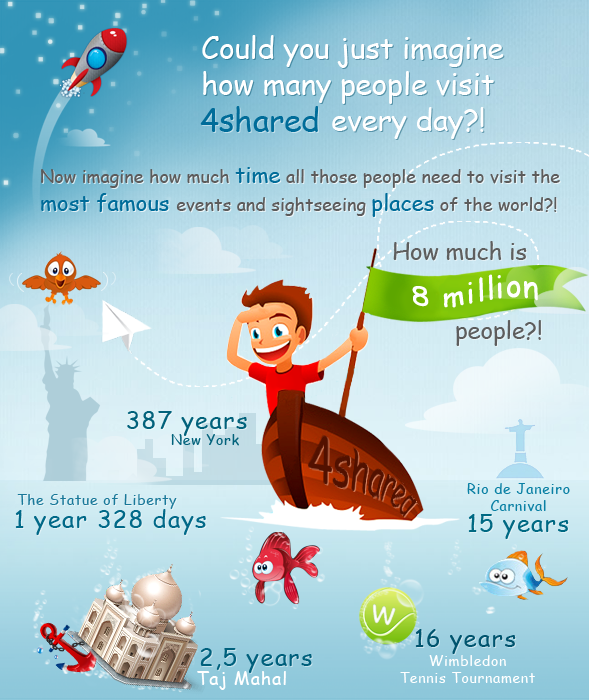 Louvre – 335 days
One of the biggest museums in the world was visited by 8,5 million people last year. All of them had to stay in long queues during almost the whole year as long as they could just tape 4shared.com in the URL-line and visit our site at the same time. Those who have already visited Louvre can save their photos at 4shared, by the way.
The Statue of Liberty – 1 year 328 days
The most famous US symbol is visited on average by 4,2 million of people annually. So, if all the people who visit 4shared every day at one moment decide to visit the Statue of Liberty, they will have to wait for some time. All of them will have visited Liberty Island just for 2 years.
Taj Mahal – 2 years 220 days
3 million people go sightseeing to this memorable place each year. All 4shared users could become permanent Taj Mahal visitors for over two years.
Rio de Janeiro Carnival – 15 years
Over half a million tourists take part in Rio de Janeiro Carnival every year. The most skillful dancers of 4shared users can go there this year; others have enough time to practice. It will take 15 years, so that all daily 4shared users visit Rio de Janeiro Carnival.
Wimbledon Tennis Tournament – 16 years
The record attendance of Wimbledon Tennis Tournament (the biggest tennis tournament in the world) is 511,043 people. So, if all people who visit 4shared every day want to visit Wimbledon, they will have to make a list of 16 Wimbledon tournaments in a ray to visit it. Those 4shared users who have been there this year can upload video from the final.
New York – 387 years
New York was settled in 1624. It took almost 4 centuries to build it as such a big city with population of 8,175,133 people. Hmm… Just enough for daily 4shared visitors. The whole city could be inhabited by them now. But … Let's see which city will be enough to inhabit daily 4shared users next year?!
&nbsp
Like this post? Share it!