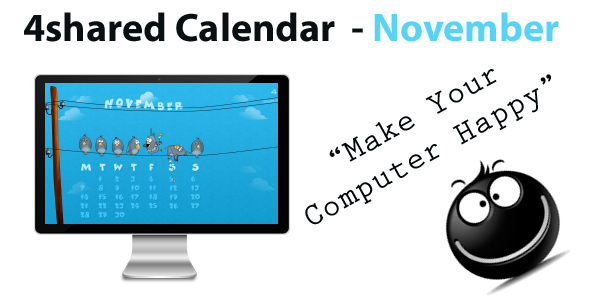 November's all around! We are delighted to present you all, guys, with the very best exclusive 4shared Calendar for November, 2011!
Read more for details.
The last month of autumn or simply, the 11th month of the year – November is definitely the great time to celebrate Thanksgiving, if you live in the US, or just start preparing for NY holidays, in case you have got many relatives and friends all deserving the perfect presents.
One more uplifter for your mood is, undoubtedly, our bright and colourful 4shared Calendar for November, aimed at making your desktop unique and incredible!
As usually, there goes an exciting story behind. This month's 4shared Calendar is dedicated to a crazy happy bird family, where everyone is so special, that you can hardly imagine the birdies being parts of one single family unit.
Meet (from left to right) the "Bird Adams-Whites Family"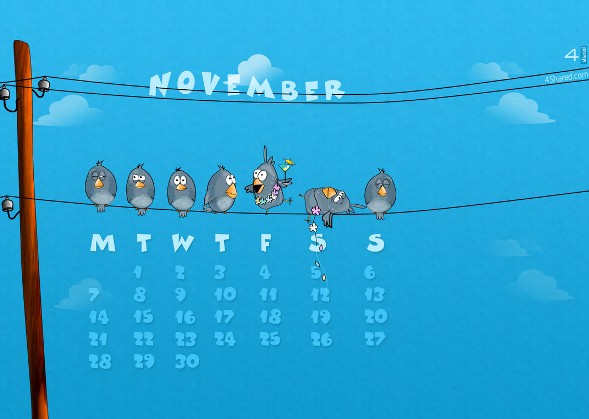 1) Unkle Maddox. Former veteran of 2 major World Bird-Wars, unkle Maddox always looks suspicous, as you know, you can never be sure, if there's an enemy watching, or not.
2) Maddox's wife, Aunt Talula. A nice, yet, a bit sarcastic bird-woman in her 50's. Is confident of the fact that Maddox is just pretending to be suspious, wishing to look braver, than he is – he's just squinting because of the bad sight.
3) Cousin Will. Will has just got 25 years old, and he can't believe it! He can't believe that he's a part of this crazy Bird Adams-Whites Family either.
4) Thome, the head of the family, also known as Dad. The manager in Transnational Bird-Post-Delivery Company for the last 15 days. Adores his wife and son, yet sometimes dreams of leaving everything for a deserted island, where no one and nothing is bothering him.
5) Fiona, Thome's wife, or Mom, or the "suffering one" in the family, as she claims herself to be. Slightly neurotic middle-aged bird-woman who is sure of the fact that no one values what she's doing for the family. Yet, she loves her husband and son very-very-very much and cooks wonderful pies.
6) Sam, Son, 19. Is currently studying history in the First Bird College of the state and is treated as the hope for the family's future. Usually having got very tired "during the classes", Sam prefers sleeping when he's vising the parents.
7) Unkle Spenser. A twin-brother of unkle Maddox. They are the same by all means, which includes squinting in the same way as well.
Do you like Adams-Whites? Download the free 4shared Calendar for November, 2011 now and enjoy the funny birds on your desktop for the whole month.
Have got more stories from these birds' lives? Share them with us, and the authors of the best stories will, surely, be rewarded.
Add Colours to Your Digital World with 4shared!
&nbsp
Like this post? Share it!