Good news for 4shared fans! One of the most convenient apps for iPhone, SuperFiles, which is known to help make file management and synchronization much simpler and faster, now supports 4shared services. Read more for details.

SuperFiles by ArlexSoft app lets you:
1. access your GDocs/Mobile Me iDisk/Dropbox/WebDAV/Picasa/Flickr and now, 4shared accounts, multiple accounts;
2. play music and video files;
3. upload/download files using Web browser, email, preview, create text documents, convert to different formats (including pdf);
4. upload/download from/to GDocs, ftp server, iDisk, Picasa, Flickr, and now 4shared;
5. scan documents, OCR documents;
6. supports 52 languages;
7. zip/unzip files;
8. have full access to photo library via web browser.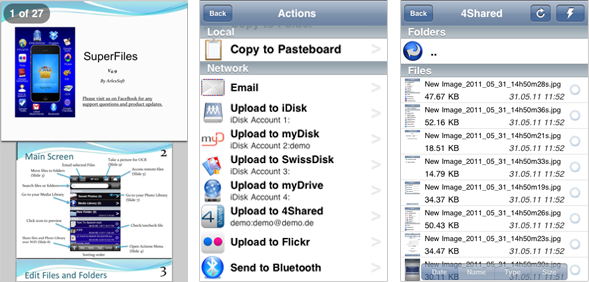 What can 4shared users enjoy now?
As long as you have got an iPhone, you can download the new release of SuperFiles with 4shared support and manage your 4shared accounts directly on your iPhone, in addition to all numerous functions of the app.
That is, in a matter of a few clicks, you can:
1. connect with your 4shared account;
2. create, move, rename and delete any folders at your 4shared account;
3. browse, move and delete any files at your 4shared account directly from your iPhone;
4. download any files from 4shared into your iPhone;
5. and much more!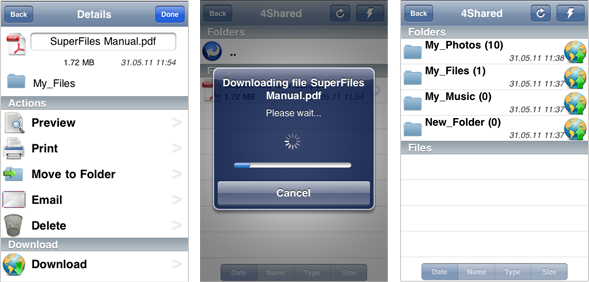 Haven't you tried the new SuperFiles with 4shared support yet? Do it now: download the app and share your impressions with us in comments!
Read this information to find out more on wining 5,000$ using 4shared API.
Things get simpler with 4shared!
&nbsp
Like this post? Share it!