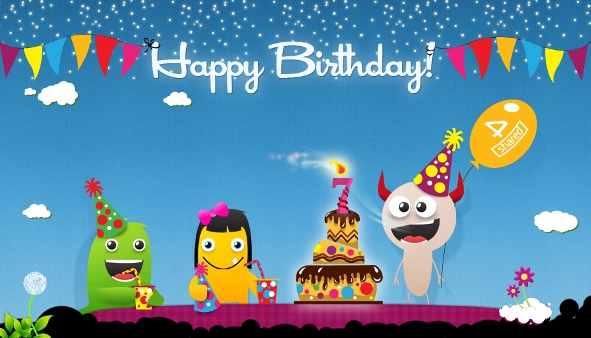 Hooray and congrats to everyone! Today 4shared is celebrating the company's 7th Brithday!!!
Read more for details.
It was in 2005, as many of you, dear fans, remember, when the history of 4shared began, and today we are turning 7!!! Yoo-Hoo!
Likewise as with the child learning the huge number of things in the first years of life, 4shared has also developed its services immensely till now.
We have released a unique application for your desktops – the state-of-the art 4shared Desktop.
We have also presented you with convenient and stylish 4shared mobile apps for smartphones and tablets working on Blackberry OS, Android and, certainly iOS.
In addition to that, we have created the indispensable 4Sync both for PC's and iMac's, so that you access your files in the simplest and fastest way.
And, surely, we are constantly developing the functionality of your online 4shared accounts, making them as easy-to-use, as one can only imagine.
Within these 7 years, the number of our fans has incredibly increased and now exceeds 16 million daily visitors all around the world! You have proven to be the most loyal and, in a whole, the very best fans, the service can only dream of!
Thank you, guys, for being with us, all we are doing, we doing it for you and only for you!
These 7 years have passed in a moment, and we are looking forward to celebrating a great deal of upcoming birthday together!
Happy Birthday, 4shared!!!
&nbsp
Like this post? Share it!