You haven't installed 4shared Mobile app, but want to access your 4shared account quickly and easy. Hmmm… Then mobile version of 4shared at m.4shared.com is right for you.

Although most of modern phones allow 4shared Mobile app to be installed, there are a lot of models of mobile phones where you can't install any apps at all. 4shared takes care of those its users too and they can access their 4shared accounts within mobile version of 4shared – m.4shared.com. That's easy and quickly!
4shared issued mobile version of its website in a way that you don't have to scroll for half an hour looking for the line to login or to approach file you need. m.4shared.com – is absolutely ads-free and has just a line to enter search results or after clicking at the "sign up" or "log in" button you can do those tasks!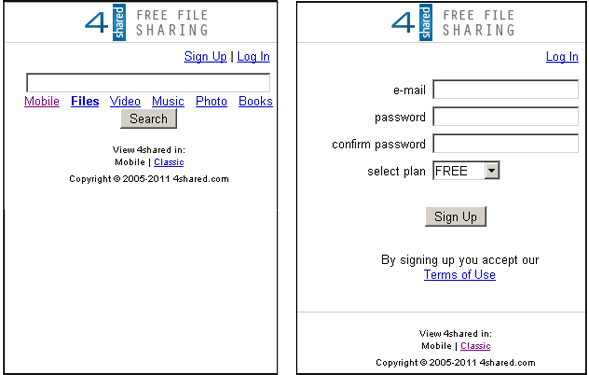 m.4shared.com is also very useful if you don't have perfect Internet connection and it takes you much time for the downloading of a webpage. Due to its simple design, it will take you just much less time to download the webpage. It's advantage for mobile phones also in its size – it is created much smaller which is perfectly suitable for mobile phones.
Try to use 4shared at your mobile and tell us your thoughts!
&nbsp
Like this post? Share it!