Great news! 4shared releases the updated 4shared Sync (4Sync) v. 1.0.2. Moreover, since now 4shared Sync is renamed to 4Sync and has its own website http://4sync.com/. Read more for the details.

Since now you can get all the news about your favourite app at one website – http://4sync.com/. Within this nifty and comfortable website 4shared team presents its new name – 4Sync. So, meet new 4Sync v.1.0.2.
Now let's look attentively at the latest updates of 4Sync v.1.0.2.
1. Share files to Twitter right from the account's menu
Now you can share files to Twitter within links right from your 4shared Sync (4Sync) account. It means that you can just choose the file you need to share and then right-click on it. In the "4Sync" section choose "Tweet it".

2. Detailed Quick Start Guide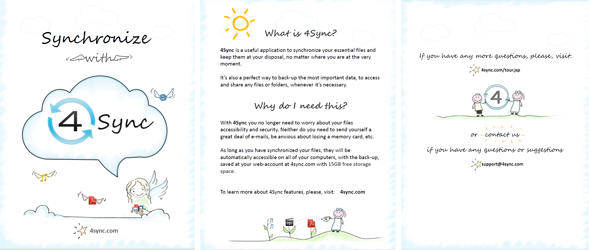 It always takes some time to get acquainted with new software, program or app. 4shared Sync (4Sync) team tries to simplify and make more convenient the acquaintance period with this app and presents the 4Sync Quick Start Guide. Here users can find all the necessary information concerning first steps with 4Sync and this application itself.
Renamed 4shared Sync to 4Sync in its new v. 1.0.2 presents users more and more convenience in synchronization of their files. Both updates are undoubtedly very useful and necessary. Haven't you already installed new 4Sync v.1.0.2?

Don't forget to visit new 4Sync's website too!
&nbsp
Like this post? Share it!