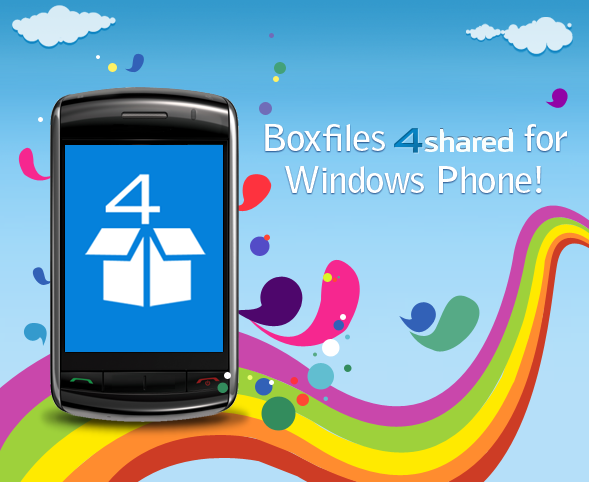 Great news for 4shared users, who own Windows Phones! We are incredibly happy to present you with our new app – BoxFiles 4shared!
Read on for more details.
Along with the featured 4shared applications for Symbian, Blackberry and Android devices, not to mention our special apps for iPhones & iPads, we are unbelievably glad to introduce you with a brand-new application. Our Italian partners from Neologics Company created BoxFiles 4shared for Windows Phone 7.
Reserved in its design, BoxFiles 4shared app is absolutely multifunctional in its essence and enables you to access, search, manage and share your data with anyone right from your Windows phone.
Some features of BoxFiles 4shared:
1. Instant access to your 4shared account from your Windows phone.
2. Convenient data management. It only takes a few clicks to rename, copy, move or delete any of your files, edit your text documents, etc.
3. Easy-to-use file upload and download. Ability to upload pictures from the Pictures Hub right to your account at 4shared.com, and vice versa, download any of your photos or other files from 4shared to your Windows phone.
4. Quick sharing of links to your files, stored at 4shared, via e-mail.
BoxFiles 4shared app is available in 2 separate versions, the free one, and the full one, where the latter variation presupposes SkyDrive integration and a number of other useful functions. All users can check either a free or a full priced version or directly the free trial mode of the full version.
Are you excited to try the brand-new BoxFiles 4shared yet? Download the Free or the Full version here.
4shared: Global Partnership for Users' Happiness!
&nbsp
Like this post? Share it!