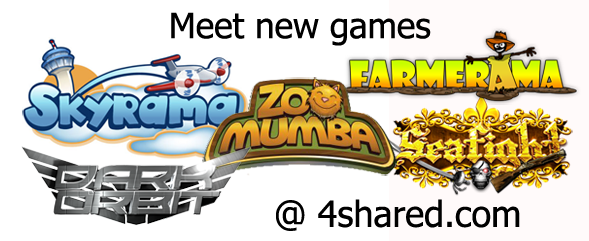 4shared launches the online games' platform at its service together with Bigpoint – the online games' provider. Those games won't just be downloadable; they would be available directly in the browser. Let's look closer at this great advantage for 4shared users.

Now all 4shared users who are interested in online games can access them directly from 4shared website within link: 4shared.com/onlinegames. Due to partnership between 4shared and Bigpoint Games 4shared users can access such massively multiplayer online games as DarkOrbit, Farmerama, Seafight, Zoomumba, Battlestar Gakactica and SkyRama right from 4shared website for free. However, user should register before every game separately, because his/her 4shared login and password can't suit to every game.
Multilinguality is also an advantage of online games at 4shared. Users can play those games in English, German, Portuguese, Spanish, French and Italian. Those six games are just a beginning. 4shared plans to expand its online game section in partnership with Bigpoint games. Nevertheless, let's flip through the online games at the new 4shared's platform.
With this game you plunge into outer space. Gamer becomes the spaceship owner and fights against non-player characters and other games. This is one of the most popular games in the world and now it is availabale directly to 4shared users.
Have you ever dreamt about your own farm? Farmerama is a thing you really need. With this game you'll experience all the pleasure of being in a barnyard – listening to all those animal sounds and taking care of them. You'll also feel the advantage of being a farmer – while selling your goods. Well, there is so much to tell you about Farmerema that it would take much time to read about it. Better try to play the game!
Seafight is a right game for those people who dreamt to become pirates at school and still hope that go back to the Pirate age! Seafight gamer has to drift in the open seas, fight against monsters and against other players, searching for treasures.
When did you visit the zoo last time? Hmm… With Zoomumba you'll not only visit a zoo, but moreover become its owner. With this great game you can create your zoo totally up to your taste, because all gamers start it from an empty piece of land where they have different tools to convert it into the best zoo in the world.
If you've been a fan of Battlestar Galactica series, this game is right for you. However, if you haven't watched even one movie, that's not a problem. Everything will be clear for you after some time of playing. You'll have to battle in one of the space fleets, overcome dangers in outer space and more other breath-taking situations.
Become the head of your airport! Build it totally up to your taste. Within this game you can choose airport in any country in Europe. So, you can manage either a small airport or a big one with huge traffic controllers and big crews. Being an airport director makes you free in your choice!
Hope you will not let us teasing you more and will experience everything yourself. Try here!
&nbsp
Like this post? Share it!