4shared.com – is a huge online hosting service that has many useful functions and features for any kind of users. All our tools are designed to be user-friendly and have multiple purposes (but no free pizza, sorry). Anyway sooner or later some people get confused about this or that. So, what is the easiest and fastest way to get your question answered? That's right! 4shared forum! Read more to find out what it's all about…

Forum – is a convenient way to establish a community of users and developers. Using our forum you can reach these goals:
1. ask your questions about 4shared services
2. report a bug you've encountered while using 4shared.com, Desktop, Mobile or Toolbar applications
3. read and discuss the new features (and how to use them) of 4shared and other related news
4. tell us about other features you want us to establish
5. friendly chat on general topics with other users
You'll be able to use following subforums
1. 4shared Support. You'll be able to ask any question you've got about 4sahred.com and it's services. But don't forget to read FAQ where we will gather the most asked questions! No need to ask something that is already answered.
2. Forum Announcements. This subforum will be useful for our future forum geeks as we will post all fresh news about latest updates and technical issues concerning the 4shared Forums.
3. Web. This one is dedicated to all general features 4shared establishes for its services. You can find some useful tutorials here too! Read, try and share your opinions!
4. Desktop, Toolbar and Mobile. Are you using any of these 4shared applications? Having some problems or questions? Or just want to share your opinion? Than choose a suitable subforum and submit a new topic!
5. General discussions. You'll be able to discuss general topics here. It means you don't have to talk about 4shared specifically. Pretty much everything you want but don't offense other peoples feelings, be humble!
General look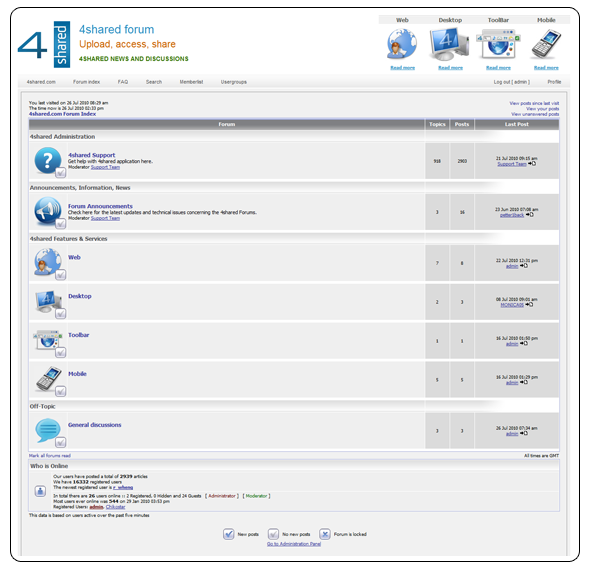 Submitting a new topic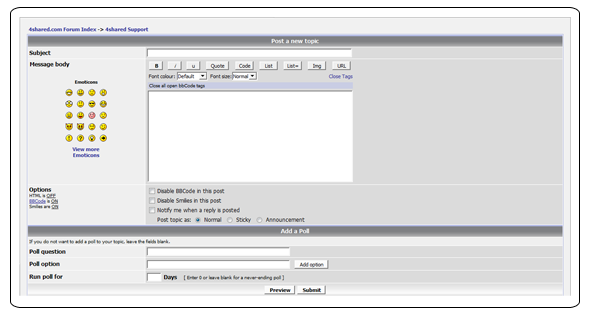 Using search


And much more!
Currently we're working on upgrading our forum and soon you'll be able to ask your questions right away!
&nbsp
Like this post? Share it!