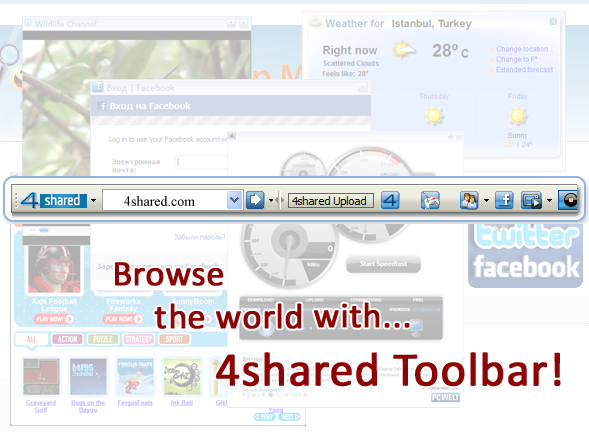 What is the first thing that pops in your mind when you hear the word "toolbar"? A nasty thing that makes your Internet browsing slower and crashes your Mozilla, Explorer etc.? Well this may be true for some of the toolbars but not all of them! 4shared Toolbar combines a dozen of features in one convenient, compact and cool looking application that will allow you to have a quick access to downloading files, playing games, listening to radio, watching TV and other useful stuff just from your browser! Check out all other incredible features of 4shared Toolbar below.

So, lets begin with ten reasons how could 4shared Toolbar be useful for you:
1. well, the most obvious one: you can have a direct access to your 4shared account and 4shared.com search without any need to enter the site itself;
2. 4shared Toolbar includes a social media application which allows you to login to your Facebook account or any other of 21 popular social media sites!
3. you can actually watch digital TV as 4shared Toolbar can stream over 100 channels from USA, UK, Italy, Germany, Holland, France and Spain!
4. there are 24 radio stations which play pop, rock, rap and classic! You can also add your own radio stations too;
5. no need to visit weather web sites anymore as you can tune to your home town with the help of included weather button. Be always prepared!
6. don't miss your new mail with 4shared Toolbar E-mail Notifier. Just add your mail account and that's it!
7. with 4shared Toolbar you can also have a direct access to the Game Arcade and other entertainments too!
8. add any other application you want from Conduit Apps!
9. search for images, news, eBay products and much more with the help of advanced 4shared Toolbar search!
10. and if you don't believe that 4shared Toolbar won't make your browser work slower – you can always test your browser speed with the special button!
---
As you can see there's no need to install multiple toolbars anymore! 4shared Toolbar will satisfy all your needs and will likely provide you with any other service you'd like! So, why don't you start using this unique application right now?
Download, adjust & use!
Currently 4shared Toolbar works with Internet Explorer, Mozilla Firefox, Safari and Google Chrome only. So be sure to get one of those and go to the 4shared Toolbar homepage. If you're using Firefox than just press the stroked area as shown on the image – this will automatically launch the plugin installation. Clicking the same area using the Internet Explorer will launch the download process. You'll have to download 4shared Toolbar and run the executable file.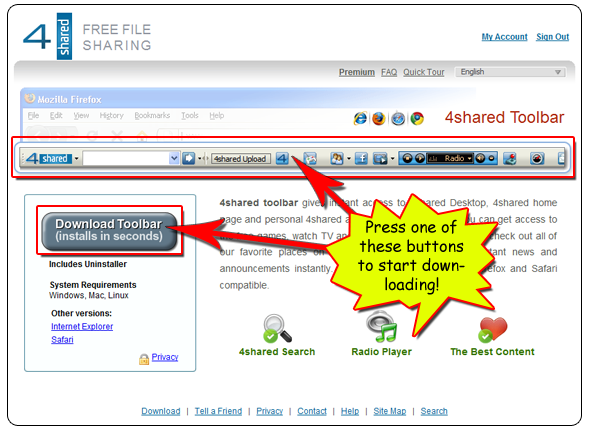 After the next launch you will notice your new toolbar and its elements: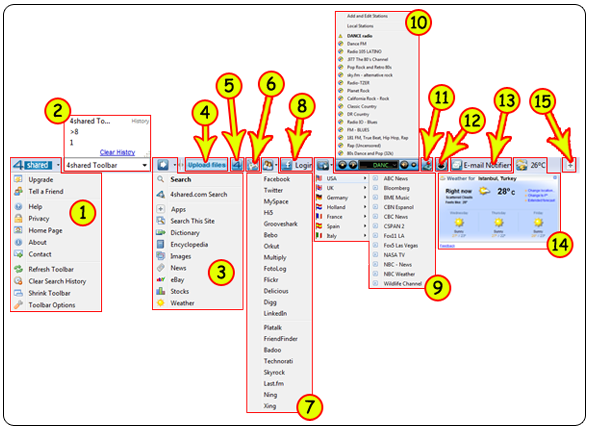 1. pressing this button will call a menu where you can choose to upgrade your Toolbar (if a newer version is available), tell your friend about this amazing application by sending him or her an e-mail, read some help info on 4shared Toolbar and privacy statements, go to 4shared Google powered home page and few other useful things;
2. this is a text box where you can enter your search keywords. This element will remember all the things you searched with it and will suggest something relative each next time you enter something;
3. this one calls a menu where you can choose a place you want to search something. You can pick anything from a general Internet search, 4shared.com search, eBay, news and many others including search for words translations etc.
4. this button will upload any file to your 4shared account immediately (no multiple uploads though).
5. this one will download for you the most fresh 4shared Desktop application so if you don't have one – don't hesitate to press this button!
6. pressing this button will open a window where you can choose some fun little game to play. It's always good when you're tired at work and your boss doesn't looking. Khm. Forget what I've just said.
7. this button will call a list of the most popular social media sites. Look for the needed link, press it and you'll get a login window right away!
8. this one is just a simple Facebook login button. Press it and you'll see the login page. Simple as a pie.
9. this one is cool. It actually allows you watching tons of digital TV channels absolutely for free! Choose the country you want and you'll see all available channels.
10. well, if you ever get tired from TV or you just want some background music – check out this tiny integrated radio! It's pretty similar to TV plugin – you have a list of different stations to choose from.
11. this one also calls a list of games.
12. test your browser speed with this button.
13. connect your mail account to this little plugin and you'll be notified each time when the new mail arrives.
14. sick of forgetting to take an umbrella with you when it's raining? Or taking it with you when it's not? Than check this sweet button for your local weather. You have to set your city first.
15. press this button and get other cool plugins for your 4shared Toolbar!
Wow!
4shared Toolbar is a simple and multifunctional toolbar which serves much more purposes then just keeping you in touch with your 4shared account. Make your life easier and more comfortable with 4shared Toolbar right now!
>>>Click here to download 4shared Toolbar<<<
&nbsp
Like this post? Share it!