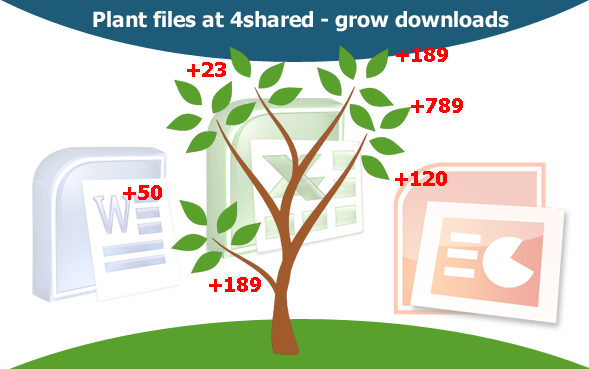 Do you have a writing talent? Are you a salesman who wants to promote some goods? Do you want to announce an event? Or maybe you have some presentation or manual you want other people to see? Than you've come to the right place because 4shared is a perfect online service for sharing documents! Don't miss the opportunity to promote yourself or your business with 4shared.com! Continue reading to find out how…

1. Promote your goods
So, you have your own business (you sell mobile phones, for example) and you seek for the new ways to promote it. Well, you can actually do it using 4shared! Make an eye-candy PowerPoint *.ppt or *.pps presentation, or post your Excel *.xls price list with smashing discounts you have this summer, upload it to the 4shared.com and the result won't take long – 4shared has almost 12 million people visiting it daily and your files will be available to all of them!
2. Announce events
Imagine you have a great discount sale, fantastic party or whatever and you want people to know about this. So why not making a free advertisement via 4shared uploading a teaser *.pdf poster or slide show to attract additional public? I wouldn't waste any time longer if I were you!
3. Share manuals, docs etc.
So you've written a manual for creating web site in two minutes or how one can make a battery out of a potato? Let everybody know about that! Compose a detailed Adobe Acrobat *.pdf file with pics, text and schematics! Upload this to the 4shared.com and who knows, maybe you will be the next Nobel Price nominee!
4. Become a well known writer
I bet almost each person on Earth dreamed of becoming a popular writer like J.K.Rowling or Dan Brown but it's always hard to promote your talent when you don't really know anything about promoting, right? Why not starting with advertising via Internet? We can actually assist you with this too! Save your brilliant work in a simple *.txt, *.doc, *.rtf or even *.pdf format, upload it to 4shared.com and believe me that some of our daily ~12.000.000 visitors will like your stuff!
So…
Are you looking for these things? Than go no further as 4shared really gives you a unique opportunity to promote yourself and your business!
Note that besides classic document formats (*.rtf, *.doc, *.txt, *.xls etc.) you can also upload *.pdf (Adobe Acrobat), *.ppt (Power Point Presentations) and may others! This gives you a brilliant opportunity to share books (no copyright violations though, please) and all other kinds of documents!
Lets talk about some tips concerning the files formats that we have mentioned earlier:




And many more…
*.doc and *.rtf are one the most spread documents formats. You can format text and pages, include images, draw tables and diagrams, charts and use simple printing settings. Normally you can read *.doc and *.rtf files via Word (Microsoft Office application) but if you don't have one (they cost pretty much, you know) you can always read and edit them with the help of Google Documents. Actually you can do pretty much anything with *.doc and *.rtf files like typing a novel, instruction for your coffee machine or your business plan but if you want something really special, you'd better check out some other document formats below…
*.xls files are good for creating a price list, a simple database for your shops' costumers, people who owe you money or whatever. It's all about numbers and formulas. You can calculate things, generate visually attractive graphs with all the numbers you have and so on and so forth.
You should have already seen *.pps and *.ppt at work during your college days or even at the office. These are commonly used to create reach presentations with great visual and sound effects using formatted text, bullet points, images, movies and music. The standard PowerPoint package is provided with the vast number of templates to chose from. Therefore PowerPoint is a great application to tell people about your ideas. The only difference between *.pps and *.ppt is that you can't edit *.pps (it's a solid slide show that is ready for viewing) while *.ppt is fully editable.
Is this all? Nope! 4shared.com also offers you:
1. free space to store your docs, presentations etc. (up to 15 GB!);
2. your personal page with all your docs info;
3. free readers and downloads;
4. rating, user comments and statistics of your docs;
5. further sharing via social media sites, blogs and forums without any additional trouble.
…and all you need to do to is:
1. get a free account at 4shared.com;
2. login to your account and upload your text file via online interface using standard mode…



…or multi mode…



…or with the help of our Desktop application: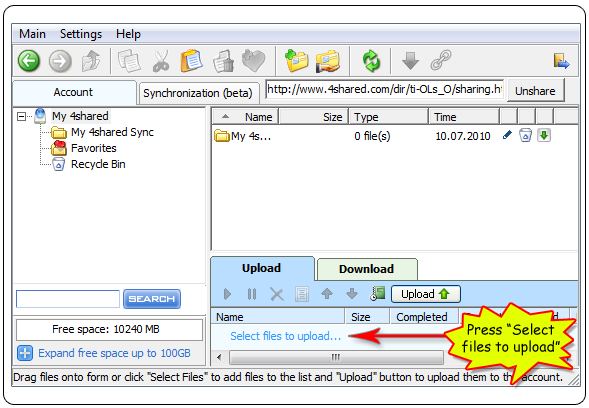 …where you can press "Select files to upload", choose needed file and watch the uploading progress:



…and share them with others by pressing the right mouse button on the desired folder (mind that you can share only folders with files inside; no sharing for homeless single files, sorry) and choosing "Sharing&Security …" option: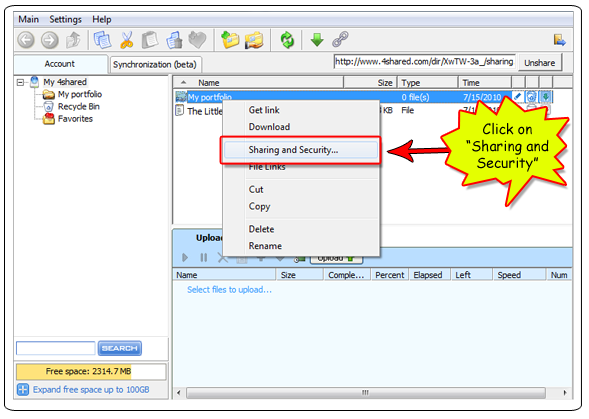 …and checking "Share this folder" option:



3. get an individual page with all your stats…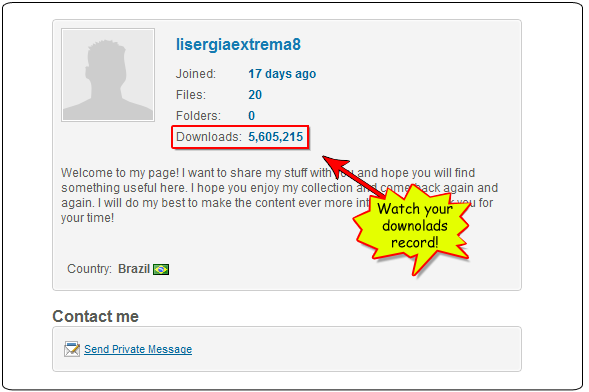 4. receive free information about the rating, number of downloads of your docs and other users' comments on file page instantly… and don't forget to share your art with boards, forums, blogs and other social media sites!


5. browse your docs using your online 4shared.com account. Press "zoom" button…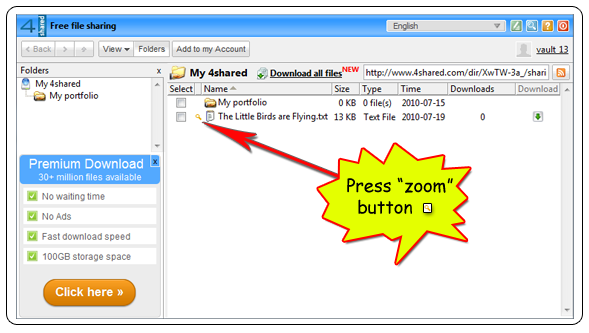 …and read your works in the comfortable notepad mode!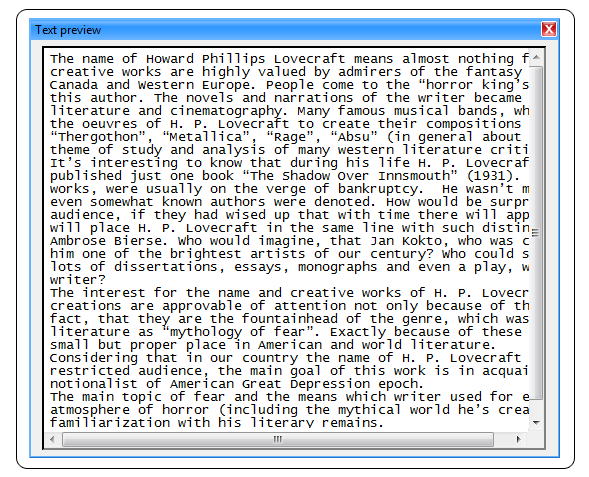 No need to waste your money and time on creating web-site, design, buying domain and hosting and other nasty things you haven't even heard about to promote your business, books, presentations etc. – you already have all that and even more on 4shared.com absolutely free! Concentrate on your favorite work and forget about everything else.
Register right now and start promoting yourself with books and presentations immediately!
&nbsp
Like this post? Share it!