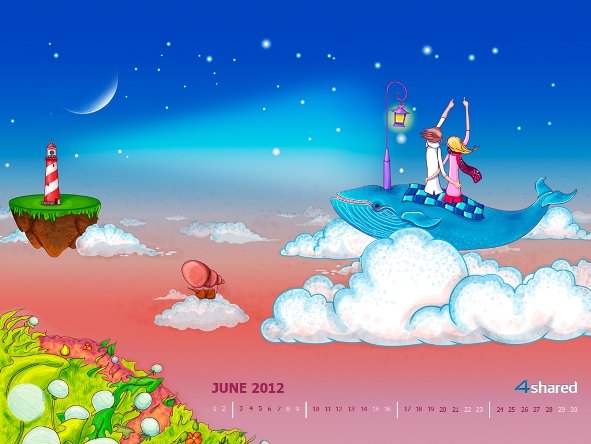 Summer's at our doors and 4shared has prepared a great accessoire for our fans' computers, tablets and smartphones – incredible 4shared June 2012 Calendar!
Read on for more details.
June is certainly one of the most expected months of the year for the majority of us. It celebrates the beginning of summer that is usually the sunniest and the warmest season, when it seems that virtually nothing can be bothersome. We have created the very special 4shared June 2012 Calendar to share our most positive emotions with our users and, of course, freshen up the desktops of their PC's, laptops and mobile devices.
Exclusive 4shared June 2012 Calendar tells a story of a couple in love – Mark and Jenny Linn. They met 5 years ago in a bookstore and fell head over heels in love with each other at a glance. Soon after their romantic relationship had started, Mark and Jenny found out that they had loads of things in common: they both were fond of reading, travelling and watching the stars at night.
Since the first meeting, the dreamy couple has been spending almost every evening contemplating the enchanting night sky, but the most favorite month is still June, when there are almost no cloudy evenings and the stars shine even brighter.
Since Mark and Jenny got married in June as well, they have created a unique family tradition. The couple picks a certain day in June every year to arrange a romantic dinner and wait till the start falls down at night. This is the moment to make a common wish of what they would like to achieve in future and till now their every wish has been fulfilled.
Are you thrilled to check the brand-new amazing 4shared June 2012 Calendar yet? Download it for free now and share your impressions with us.
4shared: Sharing the Best!
&nbsp
Like this post? Share it!