4shared will never be tired to bring the best filesharing experience to its' users. Today we give you the new design and functionality of your public 4shared folder pages! Be ready to find out about dozen of useful features and other interesting details on the topic.

Let's take a look at a really large picture that shows all the features available on your new public 4shared folder page: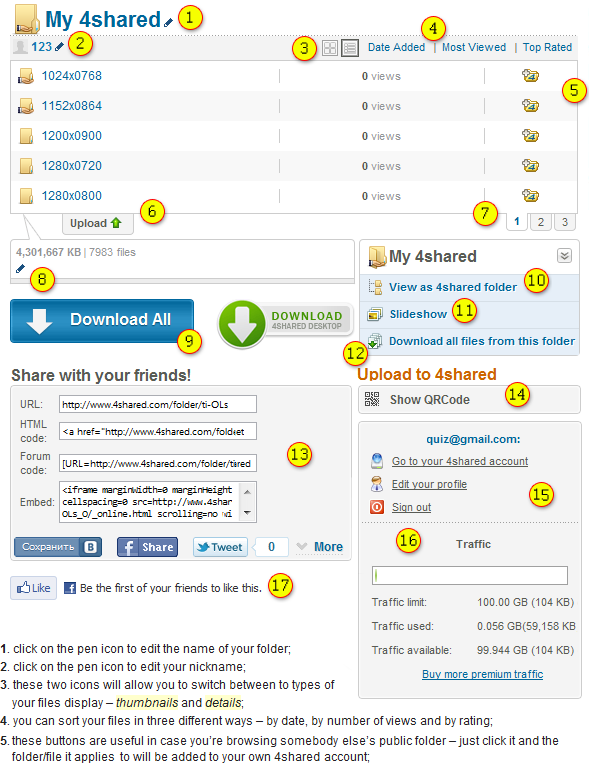 6. click this button to upload files or folders to account;
7. if you have many files they will be divided by pages;
8. click on the pen icon to edit the description of a file/folder;
9. this button says for itself – download ALL files and folders in ONE click;
10. click this link to view the current folder inside your online 4shared account interface;
11. this feature will launch a slideshow of all pictures inside the current folder if there are any;
12. click this link to download all files from the current folder;
13. in this box you can get links for sharing the location of a current folder with your friends via social media websites etc.;
14. click on this tab to see the unique QR code of the current folder. You can read more about QR codes here;
15. this tab includes three quick links – the first one will bring you to your 4shared account, the second one will allow you to edit your profile right away, and the last one – to sign out from your account;
16. this tab displays your traffic details;
17. tell the world that you like this folder!
Go to YOUR public 4shared folder and test all these functions right now!
&nbsp
Like this post? Share it!