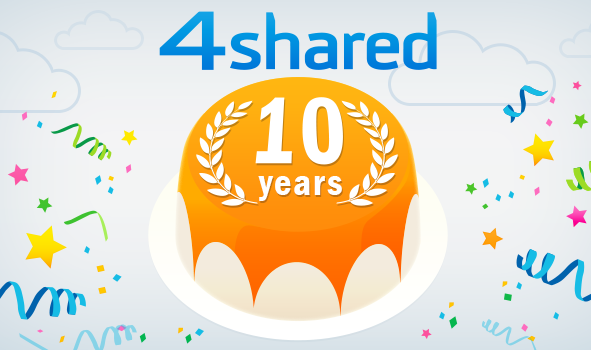 The 4shared team would like to send congrats to users around the world on our 10th anniversary! It has been the great time and we are happy to review our most memorable milestones and achievements!
Since the starting point in 2005, 4shared has always been a user-oriented service, so we have been continuously working hard to improve our solutions and make them easy-to-use for everyone.
Within the past 10 years, we have introduced a wide range of exceptional products and beneficial options for our users. In addition to a user-friendly web service, we have also developed a helpful 4shared Desktop app for Windows, Mac and Linux operating systems along with an array of mobile applications for all mobile OS's, e.g. the famous 4shared for Android, 4shared Music, 4shared Mobile for iOS, etc.
As for the most recent accomplishments, 2014 has become a year of mobile growth for 4shared. In particular, we have introduced a cutting-edge 4shared for Windows Phone app and implemented new features in 4shared Mobile for iOS application. Namely, we have added a unique music player to the app, which allows streaming tracks on the go, create favorite track lists for offline listening and much more.
Of course, none of our achievements would be possible without our loyal users. Within the 10 years of our history, our audience has been gradually increasing and now outnumbers 11 million daily users worldwide with the total 3M+ active daily users of 4shared for Android (70% more , than in 2013) and over 100K active daily users of 4shared app for iOS (twice as many as in 2013).
We would like to express our gratitude to everyone for staying with us for these amazing 10 years and look forward to being a part of your life in future!
P.S. In the spirit of the Holiday, we have prepared many exciting presents, so track the hashtag #4shared10Anniversary and stay tuned for updates!
Happy 10th Anniversary, 4shared!
&nbsp
Like this post? Share it!